So, how did the real estate market do in our area in 2019?
Median Home Sales Prices
I just finished running the numbers we've used as our guides for many years now.  I'm writing this in early January 2020.
Of course, everybody's first question is "are home sales prices up or down?" Well, they are up, down and flat.
Prices were up 5% in Antioch, 3% in Oakley and 11% in Bay Point. Prices were flat in Brentwood. They were down 10% in Discovery Bay and 1% in Pittsburg.
MEDIAN SALE PRICES – 2019
Antioch
Brentwood
Oakley
Discovery Bay
Pittsburg
Bay Point
January
$440,000
$623,862
$486,888
$619,000
$451,500
$392,450
February
$403,500
$633,750
$491,250
$585,000
$425,000
$425,000
March
$450,000
$599,440
$500,000
$569,950
$440,000
$388,000
April
$455,000
$608,750
$489,000
$560,500
$450,000
$380,000
May
$470,000
$600,000
$515,000
$589,500
$468,000
$375,000
June
$485,000
$626,500
$496,000
$628,500
$449,750
$480,000
July
$470,400
$608,333
$510,000
$585,000
$455,000
$431,500
August
$480,000
$602,000
$519,990
$626,000
$445,000
$355,000
September
$473,500
$625,000
$515,000
$617,000
$469,000
$420,000
October
$450,750
$616,000
$515,000
$610,000
$455,000
$394,200
November
$480,000
$627,000
$490,500
$612,166
$483,500
$426,000
December
$465,000
$623,000
$499,500
$555,000
$449,900
$438,500
I have to qualify the above a bit though.  What follows will show how important the inventory of homes on the market is to be judging the condition of the market.
Real Estate Inventory
The last quarter of the year saw inventory numbers drop tremendously. Well now! Deja vu! I went back to my market report for 2018.
Here is the part about the inventory in the last quarter of 2018:
"The inventory of houses for sale took a nosedive.  At the end of the year, inventory was way down again.  In some markets back to where it was at the beginning of the year and in others even lower."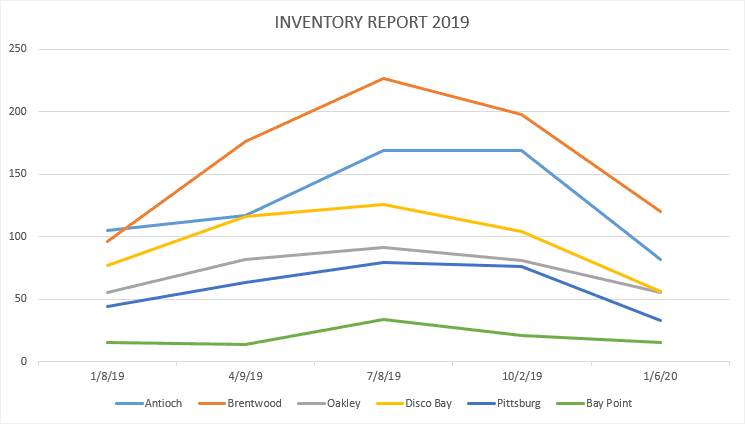 So, the last quarter of 2019 inventory story was a repeat of the last quarter of 2018!  Another nosedive! I will come back to this.  Right now, I want to return to qualifying the up and down sales prices for 2019.
The precipitous drop in inventory meant that in a number of markets, the number of homes for sale and of course sold, were so low that the median price amounts are likely off.  Or, as they say, the sample numbers were not statistically significant. This is especially so in Discovery Bay and Bay Point.  My intuition is telling me that Discovery Bay was down maybe 1% and Bay Point was pretty much flat.
We have been keeping inventory records going back to 2007.  This development spurred me to go back and review all the way back to then.
In looking at the numbers for all those years, it just jumped out at me that right now, inventory of homes for sale is, besides close to where it was in January of 2019,  actually close to where it was in mid-2013, just before prices started back up following the recession bust.
Though we did not keep stats on all the markets at the time of the recession bust, Libby remembers 2005 as the top of the market before the crash and also that Antioch inventory was just about what it is now.
Please hang in there for just a bit more on this subject.
Again, using Antioch as an example, the inventory in October 2007 was 1,203.  That was during the Great Recession bust and inventory was historically high.  Looking over the years covered in our stats spreadsheet, when the market was what we feel more normal, the inventory would range from 300 to around 500, with some ups and downs.  Compare that with the inventory this January of 1982.  Hmmm!
Additionally, when inventory was at its lowest in 2013, there were far fewer houses in the city then than now.  Many, many more homes have been built since then.  One could rationally state that the inventory of homes on the market now, compared to past lows, is the new historic low!
That is our conclusion.  We are at the new historic low!  This affects a lot of things.  Normally a very low inventory is seen at the top of a market which causes buyers to compete against each other to buy.  That drives up sale prices.  We have seen this happening for several years now.  However, now, with inventory incredibly low, prices are only slightly up in some markets, down in others and flat elsewhere.
Real estate agents we know in other markets like Sacramento are reporting the same thing with a few hot market exceptions.
Mortgage Interest Rates
Mortgage interest rates continue to be very low.  This does make more buyers able to afford to buy a home that they could not otherwise.
National Average Mortgage Rates
| | |
| --- | --- |
| Description | APR This Week |
| 30 Year Fixed Conforming | 3.790% |
| 15 Year Fixed Jumbo | 3.500% |
| 15 Year Fixed Conforming | 3.240% |
| 30 Year Fixed Jumbo | 3.970% |
| 5/1 Year ARM Conforming | 3.440% |
| 5/1 Year ARM Jumbo | 3.200% |
So, what is driving these developments?  We have to admit, we are not sure just yet.  Besides continuing to research and consider this question, we are still waiting for the usual real estate gurus to come out with their ideas.
Conclusion
If you are into seeing the actual inventory numbers I have been referring to, go here: Inventory Report from October 1, 2007, to January 6, 2020
All we can say right now is stay tuned for more developments.  Hopefully, by our next newsletter, we will have a clearer picture to share with you for our local market.
With mortgage interest rates so low, it is a perfect time for buyers!  With inventory so low, there is less seller competition.  With a really good real estate agent, both buyers and sellers can do well right now.
This could be the perfect time for you, or someone you know to make that real estate move you have been thinking about.
No matter what the market, if you want the best possible chance to get what you want, call Libby at 925-628-2436. You'll be glad you did!