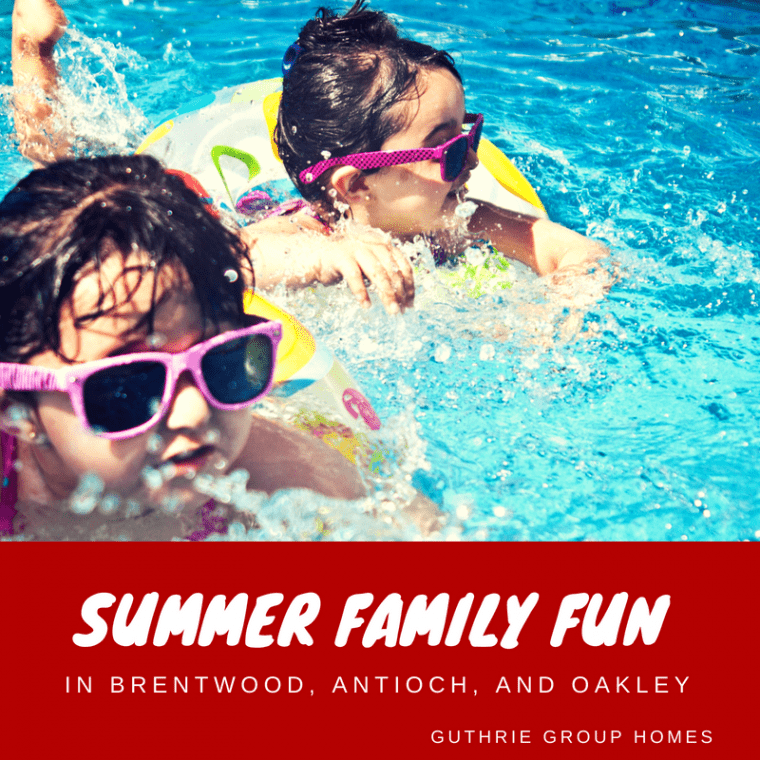 Summer and family — is there a more iconic combination? With summer vacations coming up soon, we thought we would share some ideas to have some fun with the family close to home.
Water Fun
Just about anyone would agree that a dip in the pool is one of the BEST ways to cool off during the hot summer months.  Brentwood and Antioch have plenty of options if you want to take the family out for a day at the pool!
If your family is into water slides, check out the Prewett Family Water Park in Antioch. Prewett Family Water Park features a variety of water slides and pools, perfect for any member of the family! Brentwood Family Aquatic Complex also features two water slides as well as large pools and plenty of grassy areas for families to relax in the sun.
Prefer some sand between your toes? Contra Loma Regional Park in Antioch features a sandy beach swim lagoon, perfect for a day out with the family. If you're in for a short drive away from the area, Sandy Beach in Rio Vista is a popular swim destination on the Sacramento River.
Don't feel like going swimming but still want to cool off? There are a number of parks in Brentwood and Oakley that have water features for the kids to cool off on hot summer days. There may even be one in your neighborhood! Check the City of Oakley and City of Brentwood websites for more information.
Events
Brentwood and Oakley are known for being great places for families.  Summertime really allows families to enjoy their towns with the various special events.
The city of Oakley offers Movie Night in the Plaza during the summer. The city invites people to come out to the City Hall lawn to enjoy movies projected onto the big screen. Movie nights are scheduled every month and everyone is invited to attend! Be sure to bring lawn chairs and snacks as well as a blanket because nights can get chilly! Check the City of Oakley website for more details.
Oakley's biggest event is its Cityhood Celebration held on the field of Freedom High School.  This year the event will be held on July 7, 2018. This annual event also celebrates our nation's Independence Day! Admission is free. Bring your picnic gear and relax in the sun while enjoying great food, music, and vendors. You can purchase a pass to let your kids run wild on the various inflatables available to play on. At the end of the night, enjoy the fireworks spectacular!
The popular Brentwood Farmer's Market is a weekly event that runs on Saturdays from 8:00 AM to 12 noon through November in downtown Brentwood. Come by with your family and stroll down Chestnut and Oak streets, sampling food from various vendors and fresh produce from local California farms, including some family farms right here in Brentwood!
Summertime is county fair time and we're so lucky to have the Contra Costa County Fair take place right in Antioch! This year the fair runs from May 17 to May 20th, featuring food and carnival rides and games for all ages. There are plenty of things to do for kids including a petting zoo, trackless train, pony rides, and more!