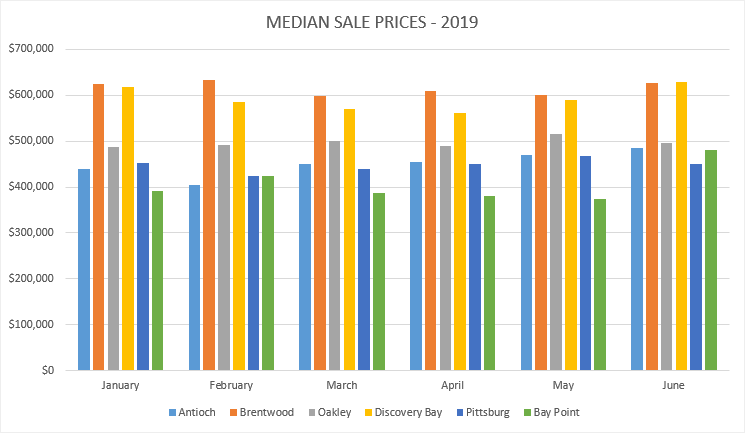 Median Sales Prices in East Contra Costa County
Here we are, halfway through 2019 and we have some updated market information for you.
Median prices in our local markets continue to rise in all locations except Pittsburg, which has stayed pretty flat.
Oakley is just a bit higher after a rise in May and then a drop in June. We have concluded that the big increase in the number of new builder homes going on the market there has pulled down the re-sales a bit.  The builders have been pricing on the low side to keep their inventory moving.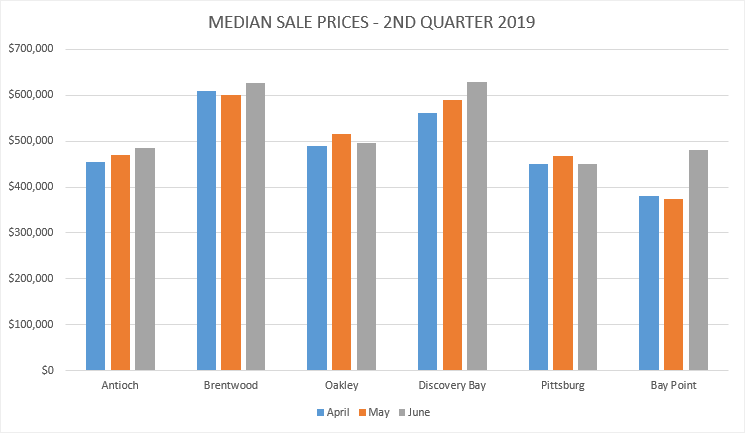 A warning to potential new home buyers in Oakley!  The selling prices are relatively low, which is quite attractive.  However, some of these homes have quite high taxes and special assessments.  This can add significantly to your mortgage payments. Pay close attention!
Home Inventory Levels in East Contra Costa County
Inventory of homes on the market continues to rise steadily.  Again, as mentioned in our last report, it is still historically below "normal."  However, it does help provide more choices for buyers.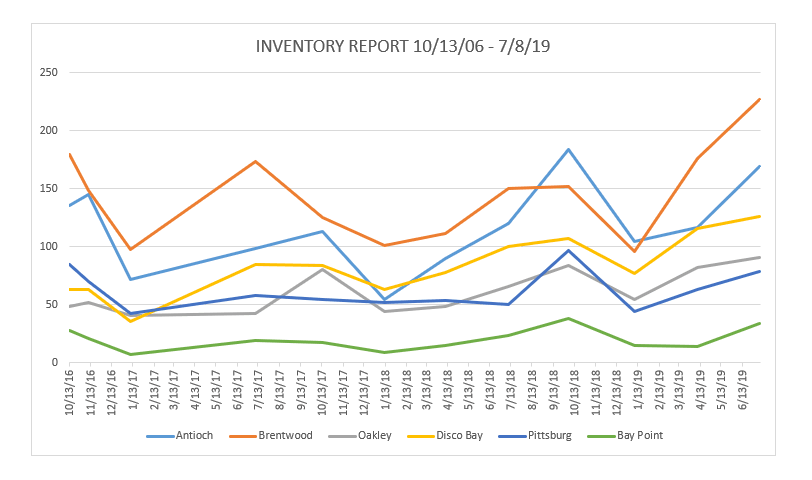 Mortgage rates continue at very low levels.  More buyers can afford to buy right now with most rates below 4% this week. Consider that in 1982 the annual average 30-year fixed mortgage rate was 16.04% with a high of 17.60%. This is practically free money. 😉
Average Mortgage Rates for CA July 10, 2019
| | |
| --- | --- |
| Description | APR This Week |
| 30-Year Fixed Conforming | 3.81% |
| 30-Year Fixed Refinance | 3.80% |
| 15-Year Fixed Conforming | 3.17% |
| 30-Year Fixed Jumbo | 4.11% |
| 5/1 Year ARM Conforming | 4.02% |
Those are the statistical looks at the market.  What about the observations of what we see otherwise?
Our Observations
We expected a bump up in buyer and seller activity in July after school is out, graduations, etc.  We did not see that in June.  However, in the last week, we are seeing quite a jump in buyer activity.  By that, we mean observation of the numbers of people looking at houses and the numbers attending open houses.  The increase in people going to open houses took a really big jump on the first weekend of July!
As usual, we see houses listed at realistic asking prices selling quickly.  Those that are listed high, sit on the market a while.  The higher they're listed, the longer they sit, until asking prices are lowered to realistic market levels.
We are seeing a lot of buyer activity from other parts of the Bay Area.  Our area prices are considerably cheaper than just about every other place in the Bay Area.  These buyers seem to have appeared all of a sudden.  We think it appears that way because we had such bad weather for such a long time, it discouraged them from making the trip out here.  Now, they're coming!
Don't forget.  Libby is the best there is out there!  If you're thinking of buying or selling, give her a call today at 925-628-2436.  You'll be glad you did!