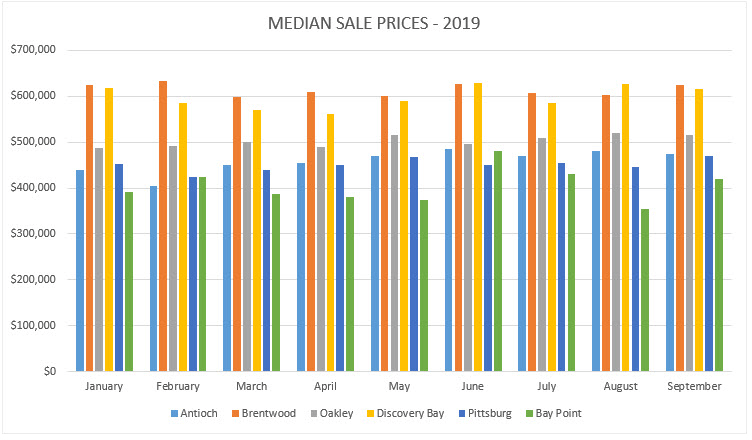 Third Quarter Real Estate Market Report for East Contra Costa County
We have now finished the 3rd quarter of 2019 and we are seeing some interesting developments.
The first thing is the inventory of homes for sale.  After months of steadily rising, we have seen it drop in the final month of the quarter.  This is in all of our markets except Antioch, which did not rise or fall. It just stayed the same.  We don't know if this is a trend yet.  It may be as it is happening in all markets, not just one or two.
Median prices, of course, are up in all markets.  But the rise is not as rapid as it has been in the past, nor as steep. The rising trend could be undergoing a change.  We will, of course, keep a close eye on this.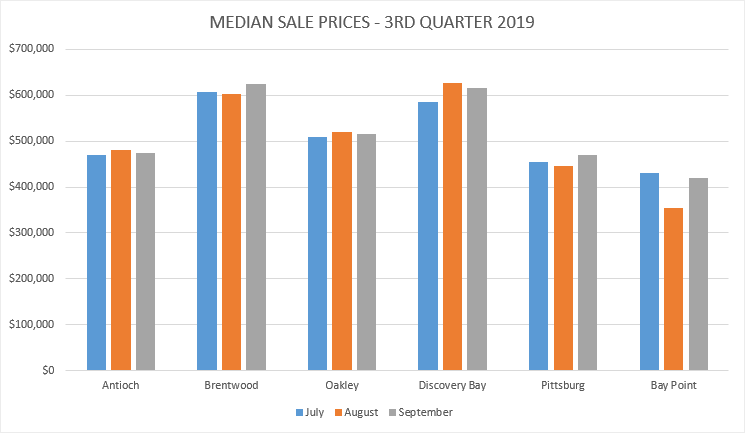 Home Inventory Levels in East Contra Costa County
We are also seeing homes staying on the market longer.  We would expect that, with lower inventory, homes would sell more quickly but that has not been the case toward the end of the quarter.
We are seeing more sellers have to reduce their asking prices to get their homes sold.  Along with that, we are seeing very few multiple offers, where multiple buyers are competing against each other to purchase the same house.  That competition really pushes up prices and is much less a factor right now.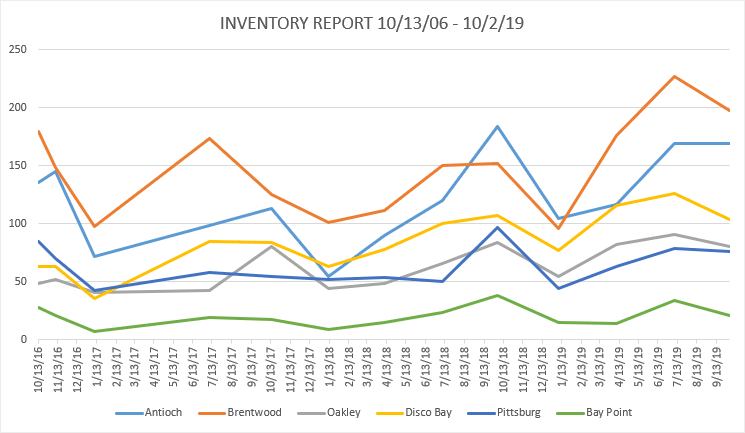 Mortgage interest rates remain very low.  That is good news for the buyers actively looking for their dream home.  How long this can continue is anybody's guess.
Average Mortgage Rates for California October 14th, 2019
| | |
| --- | --- |
| Description | APR This Week |
| 30-Year Fixed Conforming | 3.80% |
| 15-Year Fixed Jumbo | 3.96% |
| 15-Year Fixed Conforming | 3.19% |
| 30-Year Fixed Jumbo | 4.18% |
| 5/1 Year ARM Conforming | 4.09% |
Our Observations
We don't have exact numbers, but we continue to see a high percentage of buyers coming from out of the area.  They come from other parts of the Bay Area to our area because, even though prices are up here, they are considerably lower than where they are coming from.  There are a significant number of people in other parts of the Bay Area that simply cannot afford to buy where they live now.  It's something of a migration you might say.
You can compare the stats from the second quarter for perspective. Or, here's a cool thing you can do!  Libby just did a short 4-minute video report of the Antioch market at the end of the 3rd quarter. What she says about Antioch also applies to the other markets as well.  In the video, she provides more detail.  If you watch it, you will see she really knows what she is talking about!
No matter what the market is doing, whether you are a buyer or seller, Libby can help you reach your real estate goal.  After 26+ years of doing this, Libby knows a lot of things other real estate agents do not.
Don't forget.  Libby is the best there is out there!  If you're thinking of buying or selling, give her a call today at 925-628-2436.  You'll be glad you did!