Part 1 – "The Dry Dock Report"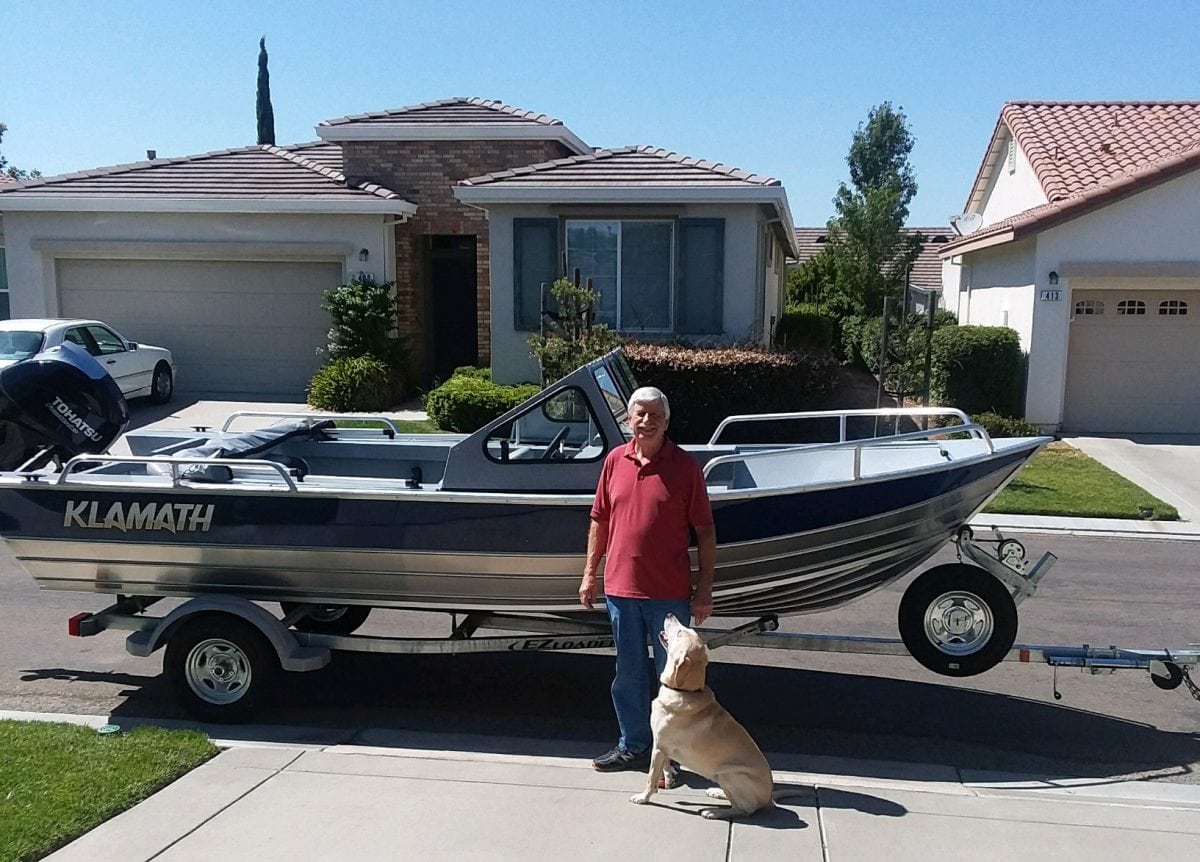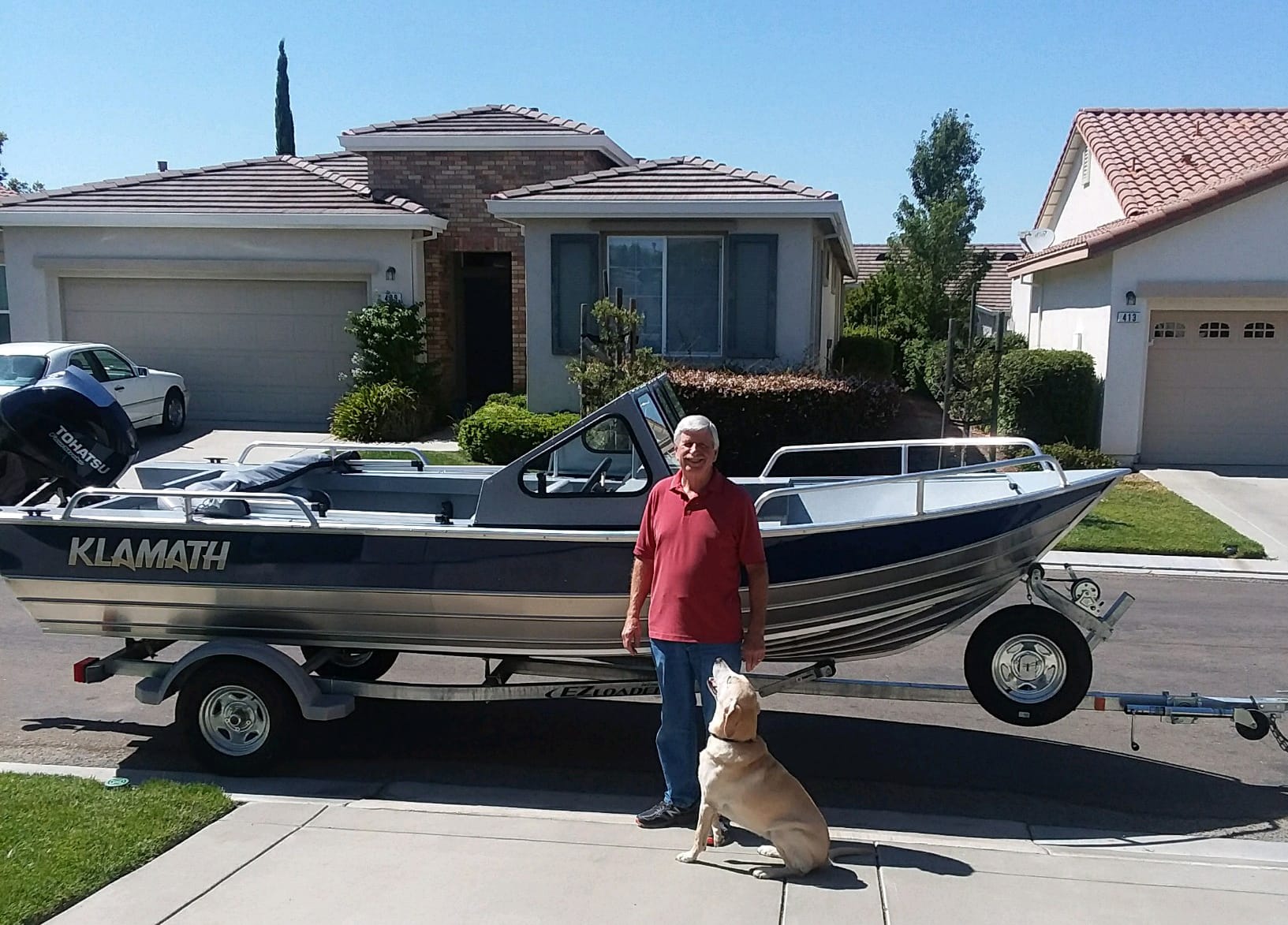 This month's article is going to be on a new subject. Back in July, Libby and I took delivery of our new boat. A number of people have been curious about our experiences so far and have been asking us questions about it. So, we thought we would do a report on that for the newsletter and website. I guess you could call this "Ken & Libby's Boat Adventure – Part 1. The Dry Dock Report."
I call it the "Dry Dock Report" because the boat has not been in the water yet. Little did we realize when we bought it, how much work would be involved getting it "outfitted" and ready to cruise.
Let's start at the beginning. Getting a really nice fishing boat has been on our bucket list for years. Recently, after years of looking at boats at boat shows and doing much research, we decided on the boat we wanted. We wanted a basic, no frills but comfortable fishing boat.
We did not want a little putt, putt outboard. Ken has quite a lot of experience with those from many years ago and did not want to go that route again. We wanted something big enough to be comfortable and very stable to move around in. Also, even though we do not intend to go out in the ocean with it, we wanted a boat with a hull design that can handle rough water well.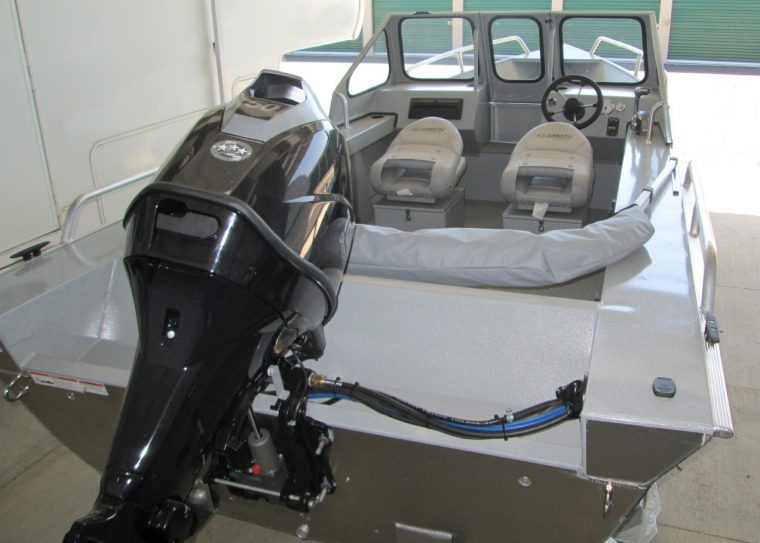 We also decided that we wanted to go with a new boat. Not a used one. Everyone we know who bought a used boat has had plenty of horror stories. We wanted a new boat, motor, and trailer. We found just what we were looking for! We bought a Klamath 18OPW. That is an 18', welded aluminum fishing boat. The package included a 50 hp Tohatsu 4 stroke outboard motor and a new Easy Loader trailer.
The boat was built at the Klamath Boat factory in Fairfield. Pretty close! That was a plus. We learned that Klamath, besides having a reputation of building really good boats, also has a reputation of being really good with doing repairs if we should damage our boat in any way. Just bring it to the factory and they will fix it.
We added some upgrades to our order. We wanted some removable swiveling pedestal seats and a full set of top, side and back canvas covers.
Once the boat was delivered to the dealership, it was time for them to install the motor and other stuff. All the above took time and we waited anxiously for it to be ready for us to bring home. Finally, the day arrived and we drove to the dealer, ASFB Marine in Sacramento, had our inspection and orientation, hooked it up to the truck and drove it home.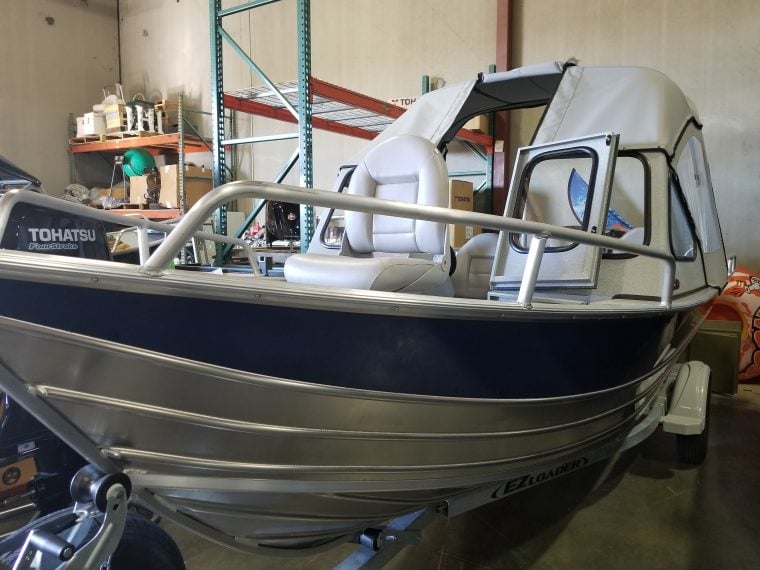 "So that was in July." You're thinking. "Why hasn't it been in the water yet?" You're thinking. Well, this is a new boat remember, even after all the stuff done by the factory and the dealer, there remains much outfitting to be done by good old Ken. This has ended up becoming a big project and Ken has somewhat limited time. Ken did not anticipate how big a project this was going to be.
Certain additional things must be done to the boat for the purpose of fishing. Other things like purchasing the right anchor and components to assemble an "anchor rode" needed to be done. Also, just learning what the heck an "anchor rode" is had to be done. That's nautical talk for the anchor, chain, rope, etc. all put together. There are docking lines, docking fenders to learn about, purchase and set up.
Then there are safety and emergency items that must be onboard at all times, like life vests, emergency signaling equipment, etc. There's much more too. It goes on and on.
Fortunately for Ken, two of his brothers were in the Coast Guard and have been great about advice and how to. Some of that advice was that good old Ken had best have somebody with him on the first day in the water to work with him on safe launching, docking, and handling skills. Remember, this is not a little putt, putt boat. Good old Ken had not thought about that. Well, as of now, the boat will be launched on its shake-down cruise tomorrow. The boat is not completely where Ken wants it to be but it is finally ready to go out on the water.
Still, to be done down the road are purchasing and installing a depth finder/chart plotter/fish finder. Also purchasing and installing a trolling motor. Ken still needs to decide on what to get and install. Whew!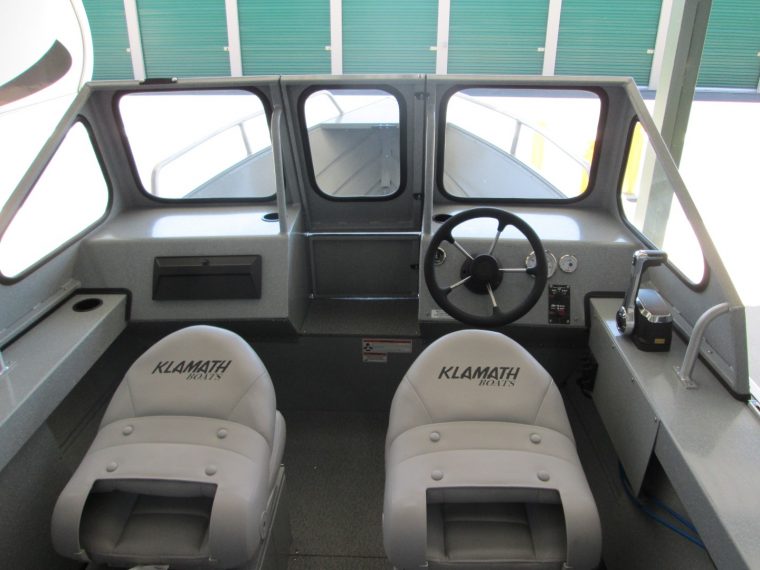 Going with Ken on the shake-down cruise and walking him through all he must learn that day will be his brother Stacey. Libby will not be with them on that cruise. She decided that knowing Ken, there would probably be some cussing involved, so she will wait until she knows things will go much more smoothly. Libby's big goal is to sit in the pedestal seat in the bow of the boat and wave to everybody on the Rio Vista Bridge as we pass under.
Ken will be "Captain Ken" and Libby will be "First Mate."
Other things to be done are for Ken to get certification of completion of the Power Squadron basic boat course. He's working on that as he has time. Boy, is that hard! There is a lot of stuff to know about the subject. Ken had no idea that he had to learn about channel markers, proper boat-to-boat signaling techniques, boat handling rules when in boat traffic, etc., etc., etc. It's not like being on the highway in a car at all. And it's not like being in a little backcountry lake in a little putt, putt boat.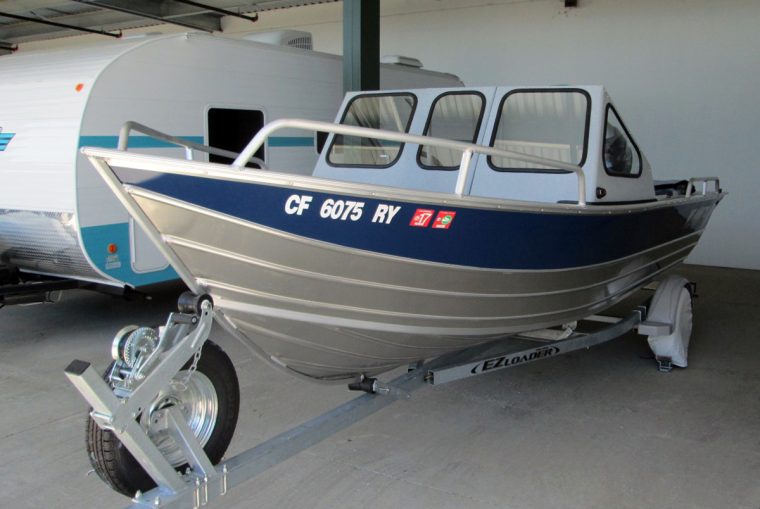 So that's the dry dock report. We're still very excited to be on this new adventure! We're also hoping Barbie will be a good boat dog. We would like to take her with us as much as we can. She is already a great water dog!
We're planning our first big "boat vacation" to be in the second half of September. We will be going up to Lake Almanor for a week and have booked a cabin at Knotty Pine Resort, where we can dock the boat and enjoy. We should be experienced Mariners by the end of the trip. Of course, Libby expects she will catch the biggest fish. She almost always does. We will do the next report after that.