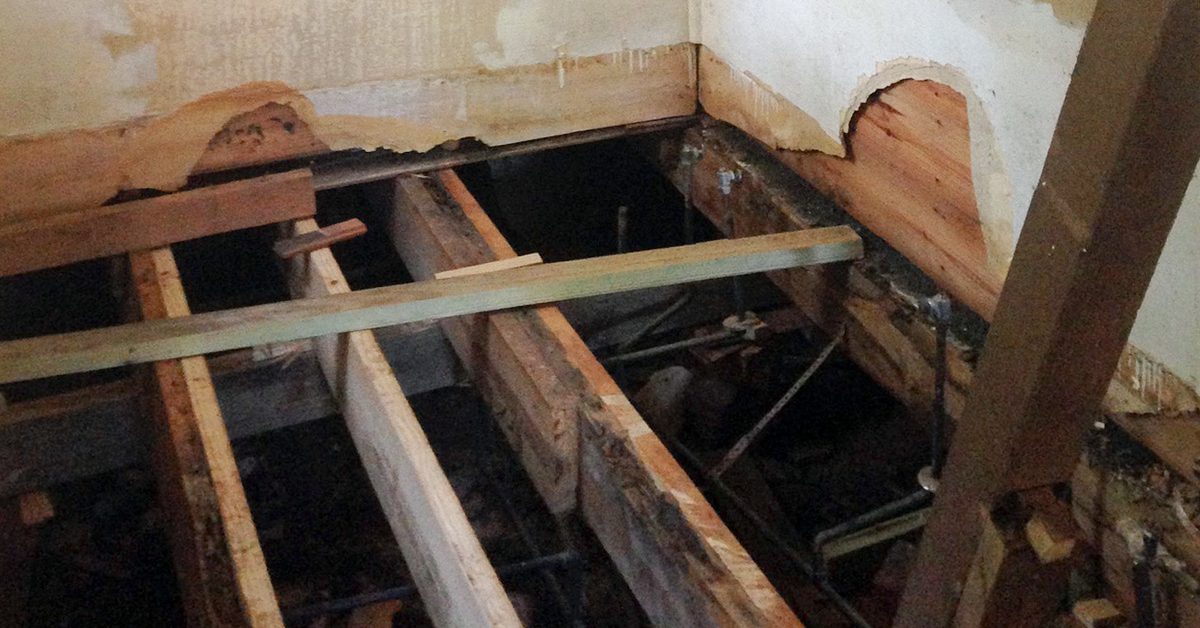 Did you ever take on a home remodeling project yourself that you came to regret? Well, you're not alone!
Working with home buyers and sellers for so many years, we hear a lot about their experiences and do-it-yourself is way up there as a major mistake. A lesson learned through sometimes painful experience.
I'm going to share a secret with you now. Don't tell anyone. But as a licensed general contractor since 1985 — who used to make a living remodeling people's homes, especially kitchens and bathrooms — I have had that experience myself!
For me, it was the thought that I would tackle something in my own home that I would normally sub-contract to a specialist on an "official remodeling job." In almost every case, I regretted it. There was a reason why I would sub-contract those portions of a remodel and I learned painfully to not forget it again.
Here are the Top 10 most regretted do-it-yourself home improvements projects.
Click To Tweet
I have recently learned of some actual data on this subject that has confirmed what we hear from clients. A recent survey of about 2,000 American homeowners, ImproveNet has found that almost two-thirds of homeowners who tackled do-it-yourself home projects came to regret it. About a third of those ended up hiring a professional to redo the job. A significant number who completed the project themselves admit they regretted not calling a professional to do it from the get-go.
A National Association of REALTORS study concluded a much higher percentage of younger homeowners try this than the older ones. Maybe older is wiser!
It's understandable why people try the do-it-yourself route. One reason is to save money. Another is that it looks so easy on T.V. I have watched a number of those shows and thought to myself "it ain't going to be that easy" if somebody in real life tried it.
Remodeling Regret Statistics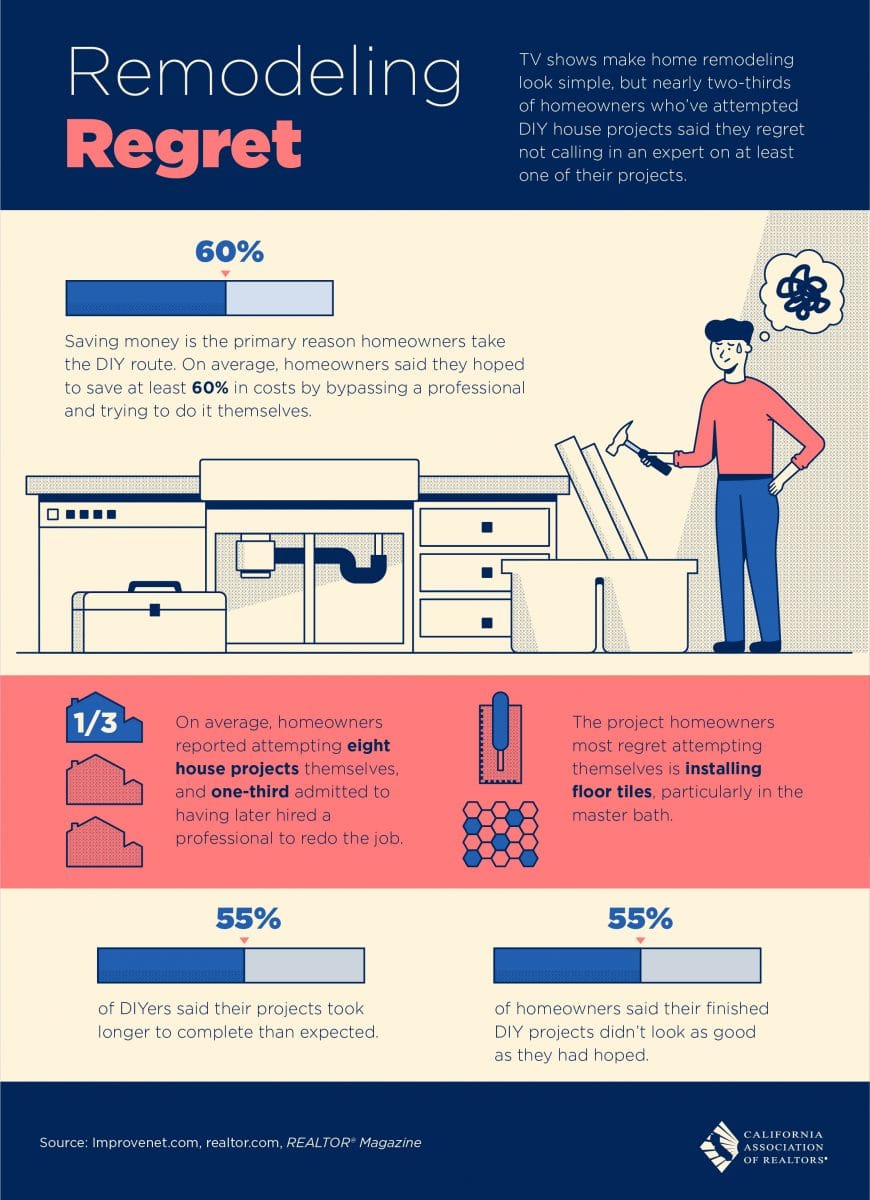 Here are some other tidbits found in the ImproveNet survey. 55% of homeowners sampled said their projects did not look as good as they had originally that they would. Also, more than half said the projects took longer to complete than expected and were more physically demanding than they expected as well.
Now, how about this one? Around 8% actually admitted they had damaged the home during the project! That really is a tough one!
There were 10 projects listed as the most regretted by those taking the survey. The number one most regretted was doing a tile floor installation. Mostly in bathrooms. They found that proper prep, tile placement, cutting, and grouting were just way more complicated than it seemed on T.V.
I can understand that. One part of remodeling projects I always handled myself was tile installation. Counter-tops, floors, shower enclosures, etc. It takes years of learning and experience to do that right and I had some great teachers and a lot of experience.
Here's another secret. Well, not a secret really. It's something I'm proud of and Libby is too. You know Libby worked with me in my remodeling business for a number of years. That is until she got tired of me being the boss. Anyway, of all those who cut tile for me as I laid it, Libby was the best. She was better than me!
I got off the subject a bit there with that walk down memory lane. Let's get back on track.
I'll finish this up with a list of the top 10 most regretted do-it-yourself home improvements projects. Have you experienced any of these? Do you have any regrets? (Please leave a comment below to let us know.)
Floor tile installation
Ceiling replacement
Hardwood floor refinishing project
Carpet installation
Finishing out a basement
Cabinet refinishing
Sprinkler installation
Installing showers and baths
Painting home interiors
No matter what the market, if you want the best possible chance to get what you want, call Libby at 925-872-6732. You'll be glad you did!
Oh yes, we can recommend some good people to handle any home improvement project you might want to avoid doing yourself!
And if you liked this article, please share it on your favorite social media platform.