What kind of house will $500,000 buy in Hayward, CA compared to Brentwood, CA?

Welcome to our second article comparing housing prices in the San Francisco Bay Area to East Contra Costa County. And just FYI, even though we are on the edge of what you might think is the Bay Area, we still consider ourselves to be part of the local vibe, as so many are moving from cities like San Jose, Fremont, and Hayward to the Brentwood area.
Despite the ups and downs of the real estate market over the past 10 years, Brentwood, and Far East County remain one of the last areas in northern California where you can still afford to buy an actual house. Not just a former apartment they now call a "condo".
Of course, that isn't the deciding factor for everyone. There are many things you should consider before moving to a new area. Not just the price or size of the house you can buy. Value, your monetary investment, and quality of life are certainly something to think about as well.
So, let's dive in and do some comparison shopping.
Hayward Ca Homes Priced at about $500,000
As of today, August 21st, 2018, we found about 30 homes in the $450,000 to $550,000 range, which include single family homes, condos, and Townhomes.
We picked 3 that were closest to our budget of half a million dollars.
24271 Dover Ln.,
Hayward, CA 94541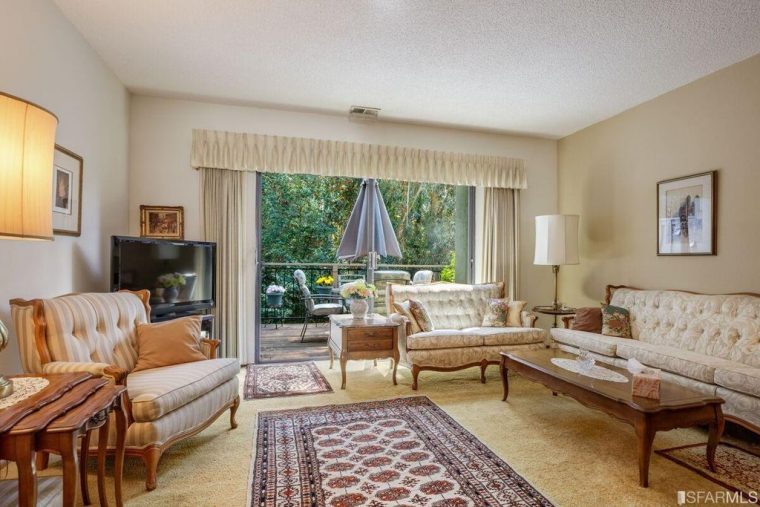 Offered at $499,000
2 beds
2.5 baths
1208 sqft
837 sqft lot
Condo
$367/monthly HOA
Located in the Fairview Neighborhood of Hayward, near schools, parks, and restaurants. This townhouse has a bit more breathing room than what you would find in San Jose at a similar price.
Built in 1978, the *price per square foot runs $413. But it does have a deck and patio, laundry room, and vaulted ceiling in the master bedroom. You'll also have to factor in the Homeowners Association fees.
21117 Gary Dr #211, Hayward, CA 94546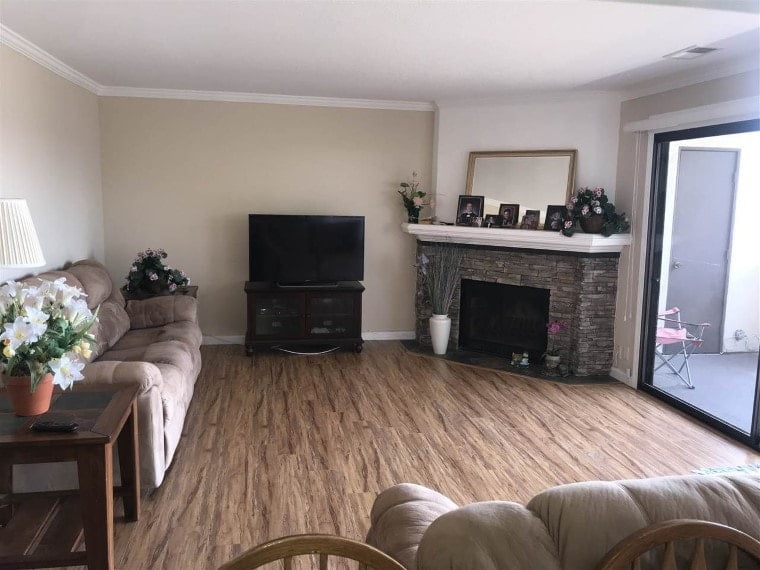 2 bed
2 bath
1118 sqft
1000 sqft lot
Condo
$375/monthly HOA
This newly remodeled condo conversion in North Hayward was built in 1979 and is close to both Highways 580 and 238 as well as BART.
Offered at $455,000 the contemporary style home rings in at $443 *per square foot not including HOA dues.
256 Anderly Ct #16, Hayward, CA 94541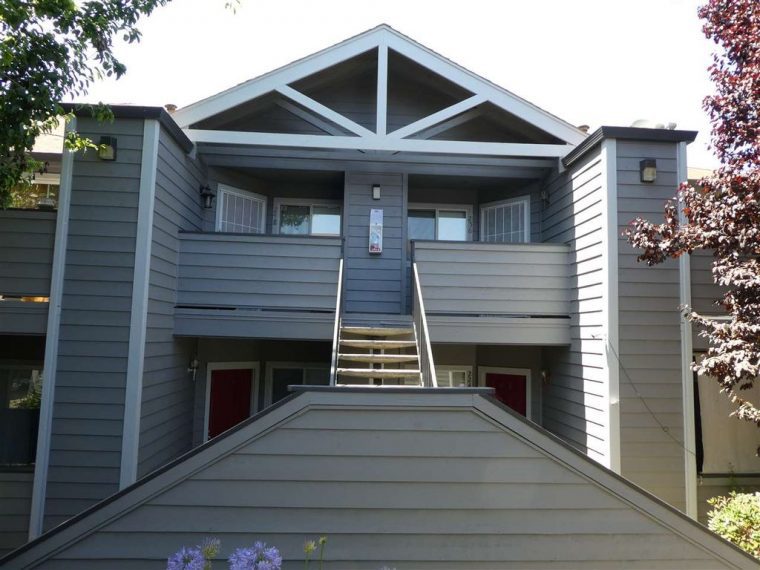 2 bed
2 bath
940 sqft
Condo
$435/monthly HOA
This little gem is in the Cherryland neighborhood, adjacent to North Hayward. It's also convenient to Highways 580, 238, as well as 880 and Mission Blvd.
Offered at $467,000 and built in 1992 it is both the newest and lowest price home in our Hayward review. But comes in at the highest *price per square foot at $497.
Recap of Hayward Homes
Just like in our review of San Jose homes, these listings are most likely apartments converted to condos or townhomes. The substantial HOA dues reduce your buying power as well as (perhaps) factor into your ability to qualify for a mortgage.
All three homes come in under our target price of $500,000 yet average just under 1100 square feet per home. Probably not big enough for a family of four.
Median Home Prices in California
Before we take a look at our home choices in Brentwood, we wanted to pop in some updated stats for median home prices for California, Santa Clara County (San Jose), and Contra Costa County (Brentwood), and Alameda County (Hayward). This gives you a little perspective on what a dollar buys in Northern Cali.
Median Sold Price of Existing Single-Family Homes
State/Region/County

July 2018

June 2018

CA Single Family Homes
$591,460
$602,760
CA Condo/Townhomes
$486,330
$482,930
S.F. Bay Area
$980,000
$1,045,000
Counties
Alameda
$970,000
$1,015,000
Contra Costa
$680,000
$702,373
Santa Clara
$1,351,000
$1,400,000
(Stats per California Association of REALTORS)
Our home picks for Hayward are priced right in line with the state average for condos and townhouses. But notice that the median price for a home in Alameda County is close to a million bucks. Twice our budget! 😮
*By the way, we are listing the price per square foot for each property, for ease of comparison only! A smaller cost per foot doesn't necessarily mean a better value. It is only a simple and easy way to get a feel for relative cost from one house to the next.
$500,000 Homes in Brentwood Ca
In our search for homes in Brentwood, we used the same criteria as for Hayward. Listed price between $450,000 and $550,000, single family homes, condos, and townhomes. And just to be fair, we also chose homes that had homeowners association dues, so the comparison is realistic as possible.
There were 39 homes listed at this price range, but we are still trying to stick to the budget of $500,000 max price. With 11 of these listing being single-family homes under $500k! There were no townhomes or condos at all at this price point.
806 Queen Palm Ln, Brentwood, CA
94513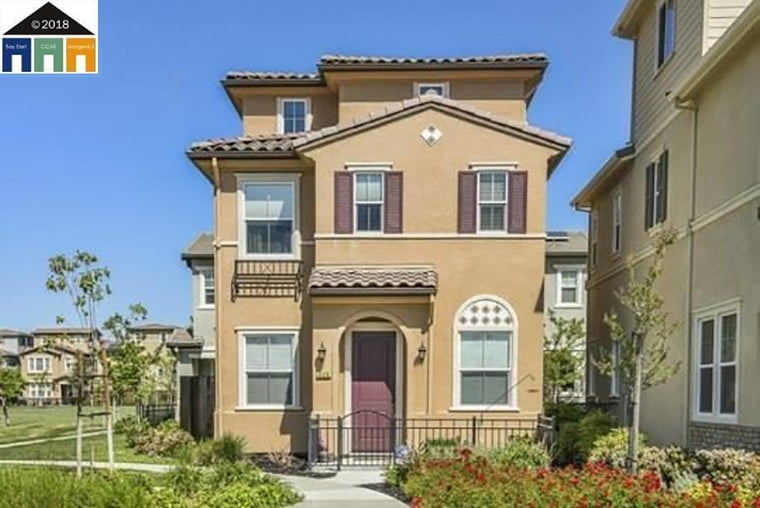 4 beds
3 baths
1741 sqft
2893 sqft lot
Single Family Home
$93/monthly HOA
Originally a model home, this 3-story house was built in 2015 and boasts $50,000 in upgrades. This home is listed at just $499,999 which comes out at $259 *per sq ft.
Located in the Palmilla neighborhood, it's close to schools, features a large lot and low HOA dues.
There are 2 Master Suites, the 4th bedroom can be used as a bedroom, bonus room, or office. Plus, there is an open space park right next door.
830 Caribou Terrace, Brentwood, CA
94513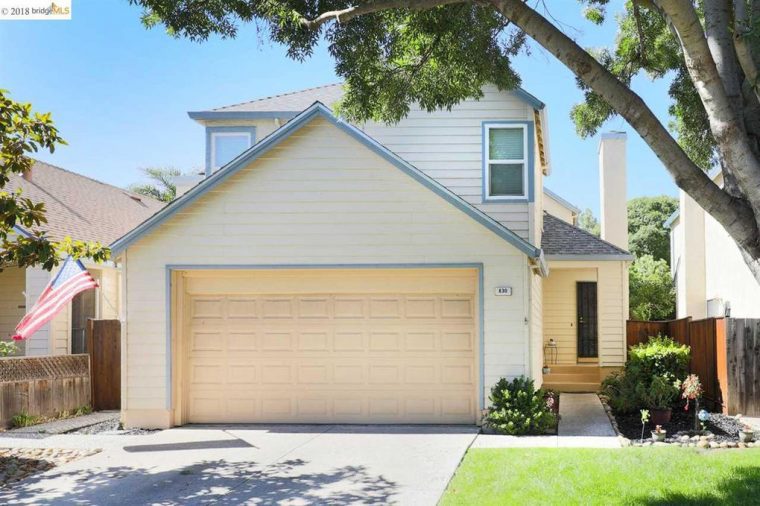 4 beds
3 baths
1751 sqft
4800 sqft lot
Single Family Home
$140/monthly HOA
This single-family home is located in the family-friendly Deer Creek neighborhood and listed for just $499,000.
With an inside laundry, updated kitchen, Granite kitchen counters, real wood flooring, dual pane windows, Anderson sliding door, new carpet, fireplace, lovely backyard with fruit trees; plum, apricot, pear and blood orange trees, this selection is located in a quiet court location. There is also a community swimming pool for the kids.
You're close to shopping, parks, and schools. Just minutes from downtown, this home was built in 1986 and comes in at $285 *per square foot.
365 Baja Ct, Brentwood, CA
94513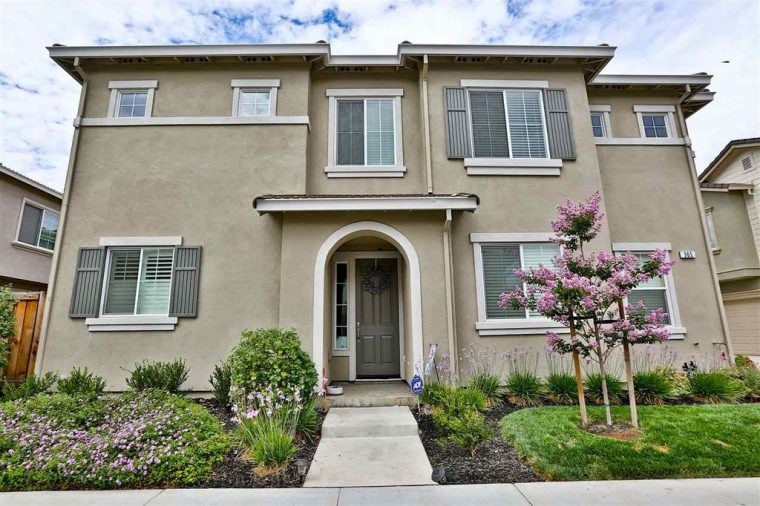 4 beds
2 1/2 baths
1762 sqft
3049 sqft lot
Single Family Home
$97/monthly HOA
In the Califonia Glory neighborhood, this home was built in 2016 and is just on the market. Offered at only $490,000.
It has all the amenities you'd expect in a newer home. Granite countertops, gas fireplace, walk-in closets, laundry room, 2-car garage… at $278 a *sqft, this seems like a bargain.
Close to downtown, schools, shopping, and restaurants.
Recap of Brentwood Homes
All our homes came in just under $500,000, as did our Hayward homes. All the Brentwood picks had 4 bedrooms and 2 1/2 or 3 bathrooms and are single-family detached homes. And all these listings have HOA dues, but way lower than what we found in Hayward.
As they say, size doesn't matter. Or does it? Is having more room important? A shorter commute? What are your criteria for the 'perfect home'? That's up to you to decide.
However, it's hard to be sure without visiting Brentwood at least once. Feeling the community, the hometown atmosphere, the joy of owning your own place.
Ken and I encourage you to come and check it out. Call or text me, Libby Guthrie at (925) 628-2436, email me at info@guthriegrouphomes.com or contact me here.
It's about an hour drive depending on the route you take.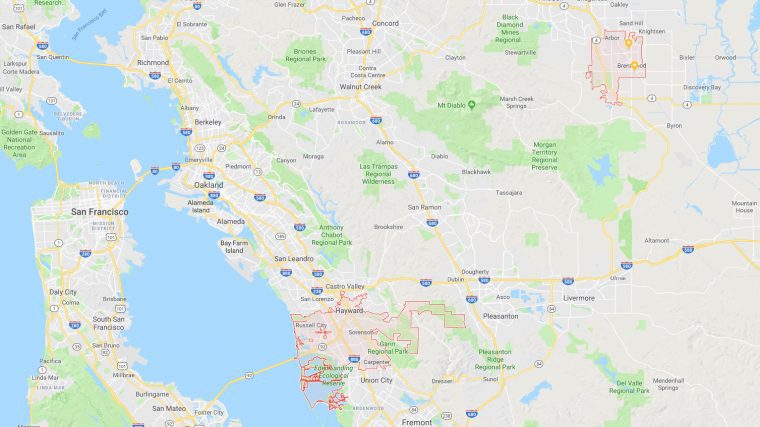 The Proverbial Question – Is Now a Good Time to Buy?
The good news. Interest rates are still very low. If you're qualified, you could get a 30-year fixed loan for around 3.86%. (This mortgage rate depends on many factors, so don't count on getting this rate until you get pre-approved by your lender.) But by comparison, the same loan would cost you around 6.53% in 2007.
Again, just for an example, a $500,000 30-year mortgage at today's rate would cost you about $2,347 a month, while the same loan in 2007 would result in a monthly payment of $3,170 a month. That's over $800 less today than back then. And the entire mortgage would cost almost $300,000 more at payoff in 2007. But don't forget to throw in the relatively high HOA dues in Hayward into the affordability equation.
Please! The example above is just to show you how relatively good your potential buying power today is compared to 10 years ago. (I know, it's actually 11 years ago, but it doesn't have the same ring.) Anyway, don't go home to your spouse and say you can buy a house for what you're renting an apartment for. Yet. Call me first so we can run the numbers.
The bad news. "Hayward market trends indicate an increase of $47,500 (8%) in median home sales over the past year. The average price per square foot for this same period rose to $474, up from $423." Trulia.com
Compare this to Brentwood: "Brentwood market trends indicate an increase of $25,750 (5%) in median home sales over the past year. The average price per square foot for this same period rose to $271, up from $249" Trulia.com
To me, this shows that Brentwood continues to be an affordable place to buy a home. Still, demand is high, and prices are up, albeit not rising in Brentwood as quickly as Hayward and the rest of the Bay Area.
These trends indicate prices will continue to rise overall, over time. You can draw your own conclusions on whether this is the right time to buy, for yourself.
If you found this article helpful, please consider sharing with your friends and family and on your favorite social media platform.