If you stuck your head out the window last week, you know there's a change in the air. And while the heat wave didn't last, it looks like the drought is here to stay.
So it's time to get serious about water usage in and around the home. The infographic you see below spells out where your water is going and how you can conserve.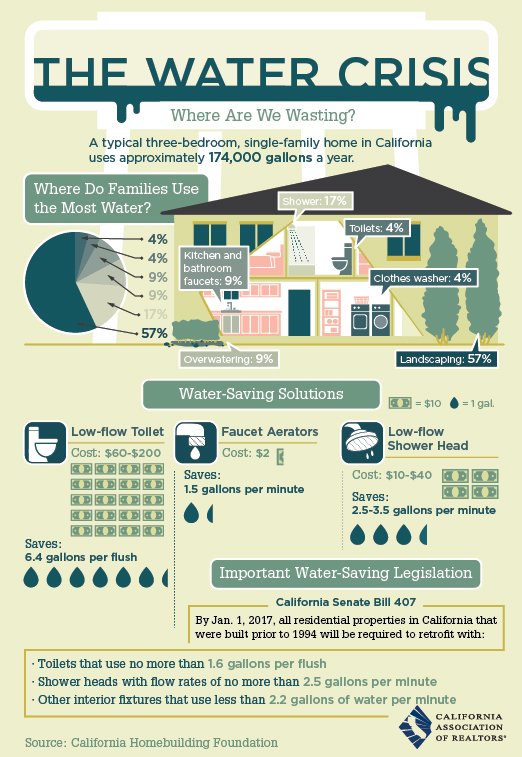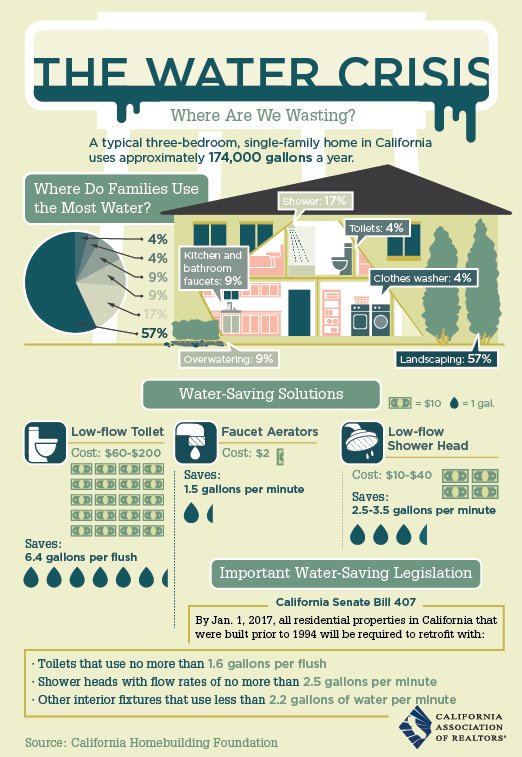 You'll notice that for an average 3 bedroom home in California, about 57% of the water usage goes to the landscaping.
You can save a huge amount of water by reducing the amount of lawn area you have, replacing water-thirsty plants with drought-tolerant or native plants and having your irrigation system tuned up and set properly with an automatic controller.
Talk to your landscape professional about creating and implementing a water conservation plan for your yard. But remember to keep 'curb appeal' in mind to keep your property value up. Don't just shut off the sprinklers, think long term.
Then the next highest usage of water for a typical California family is from the shower. Be sure you have flow restrictors in the shower heads and use a timer to remind you when it's time to get out.
If you still have those old high flow toilets, you might as well replace them now. Not only will you conserve on your water usage, but you'll need to do this anyway if your home was built before 1994. California Senate Bill 407 requires you to do so before Jan 1st, 2017.
We all need to pitch in to make a difference. For more ways to save, Google "water conservation tips" and see what works best for your home and family.
Download the print quality Water Crisis graphic
Water Crisis Infographic
(You may need to right-click and "Save As…")
Do you need some advice or clarification on what this means for you?
Call or email Ken at (925) 628-2436 – Info@GuthrieGroupHomes.com