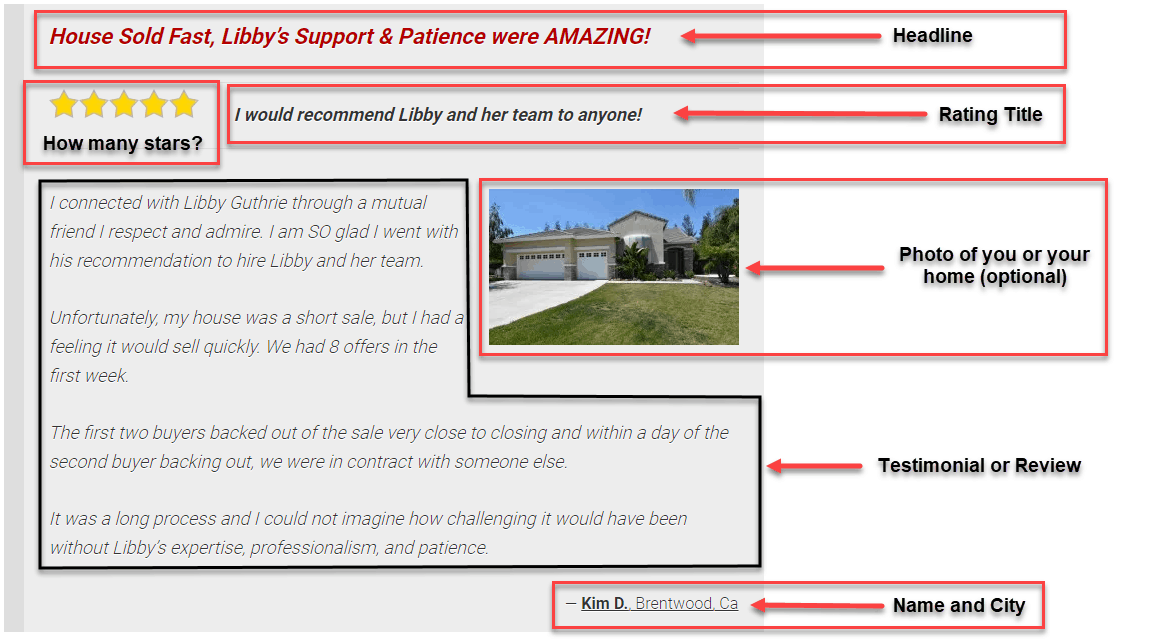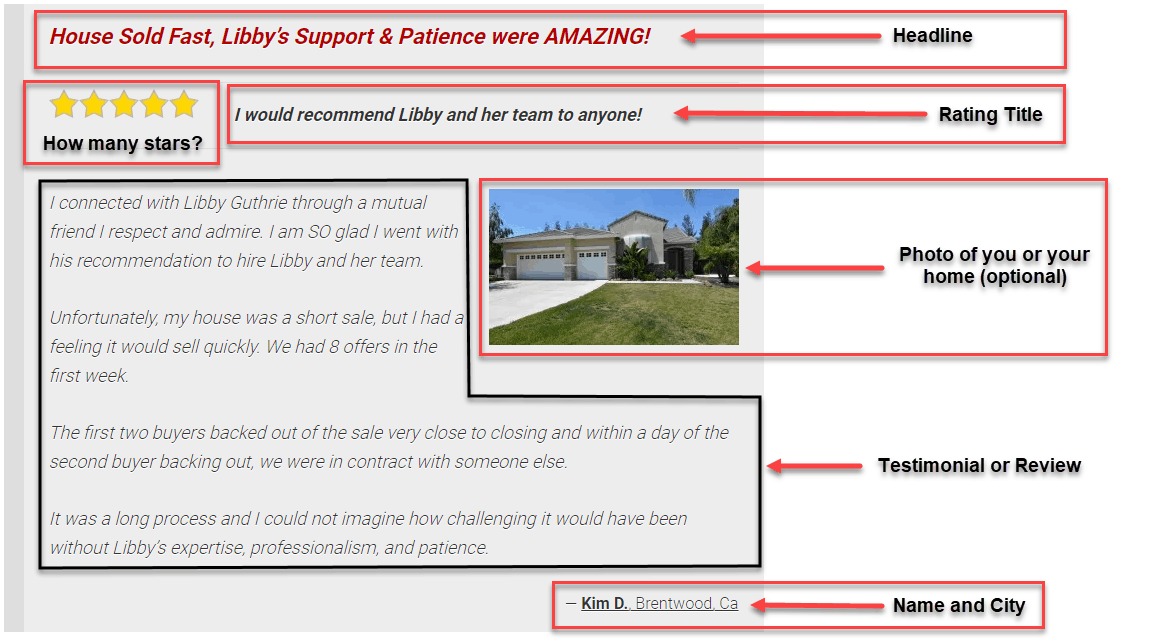 Did you know that getting testimonials and reviews of our services is one of the most important things that we can do for our business? And in the current market, it's even more important than ever. Let me explain why.
Social proof. That's what they call it now. We used to call it "word of mouth" or client referrals. You remember how it worked, one of our past clients would tell their friend or neighbor about us and that person would call us because of the glowing recommendation they just received for us. If things worked out well, they would hire us, and hopefully, after our transaction was complete, they would recommend us to their friends and family. But that doesn't happen so much these days.
Nowadays, people do a Google search to find a real estate agent, or they go to Facebook or Yelp for recommendations and reviews. They don't even call them testimonials anymore. Ah, it's a brave new world. When we started in real estate there was no Google, no social media, no blogs. But here we are now with a nice website, a blog and a good start on our social media presence.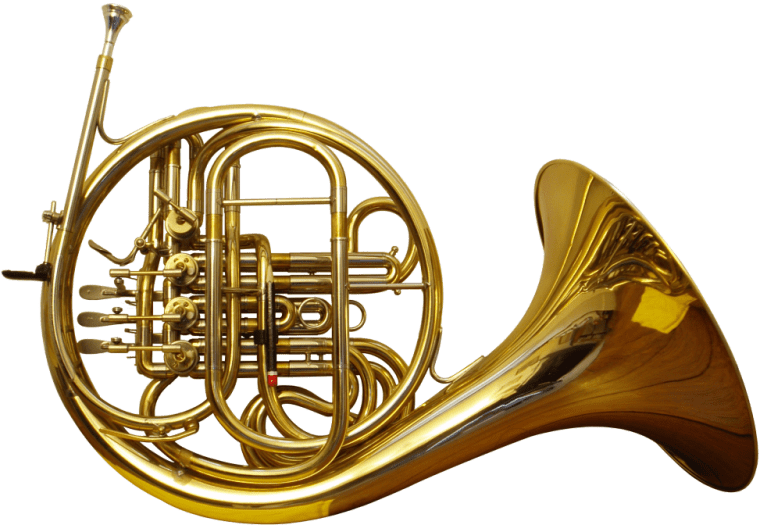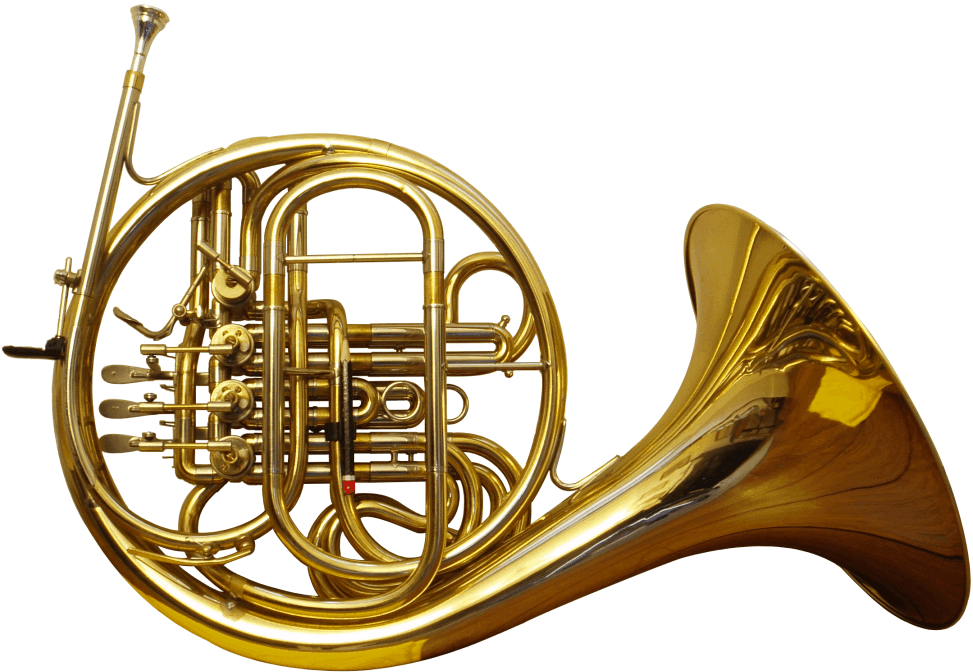 It's been a bit of a learning curve, but we're determined to keep up with the changing times so we can serve you, your friends and family even better now. But to be honest, we need your help. We're not so big on tooting our own horns, so we need to ask you to do it for us. 😉 We need to ask you to venture out on the world wide web and leave your review for Guthrie Group Homes.
In order to make it easier for you (we hope), we've created a few pages on the website with instructions on how to leave reviews on some of the most popular websites. These just happen to be the most important websites for that social proof I was talking about before. So below, I've listed the pages where you can leave your review and also the instructions for the various sites in case you've never left a review there before.
Google Local
You can find our Google local page at http://guthriegrouphomes.com/googlelocal where you can leave your review.
If you need some help, you can read the instructions on this page, How to Leave a Review on Google. It can a little tricky to find where to actually write your review, so if you need any help, you can always give us a ring and we'll be happy to lend you a hand.
Facebook
To leave a review on our Facebook page, head to http://guthriegrouphomes.com/facebook-reviews and tell people what you think of us. 😉
If you've never left a review on Facebook and need a little guidance, you can find all the details at How to Leave a Review on Facebook. Again, just give us a call if you need additional help.
Yelp
When you think of Yelp, you may typically think of restaurant reviews, beauty salons, and other local businesses. But apparently, people look for reviews for real estate agents too. So if you happen to be a user of Yelp, we'd love to get your review there too. You can find our page at http://guthriegrouphomes.com/yelp-reviews.
If you're new to Yelp or this is the first time you've reviewed a business, check out our how-to page at How to Leave a Review on Yelp.
Guthrie Group Homes
And last but not least, you can leave your review on our website. And yes, we also still call them testimonials here. 😉 Head over to http://guthriegrouphomes.com/write-review to leave your testimonial for us.
Since this will probably be the first time (but hopefully not the last) you leave your review on our website, you can get some help at How to Leave a Review on Our Website. Either way, it's pretty simple to do, just fill in the blanks, agree to the terms and click submit.
Thank You!
And just to be clear, you're welcome to write a review on any and all of these websites. The more the merrier. But just one review would be fantastic!
Again, we want to express our appreciation for you taking the time to read this article and giving us your honest opinion of our services. Without you, there would be no Guthrie Group Homes.
Thanks again,
Libby and Ken Guthrie