Whatever you may call it, energy efficient features are a must in new homes. While the terminology may differ from builder to buyer, consumer to Realtor, homes that feature energy saving building practices, solar panels, high-efficiency HVAC systems and the like, are in high demand with home buyers and homeowners.
You can see in the graphic below that consumers have a pretty strong preference when it comes to the actual language that describes the type of energy efficient feature or home.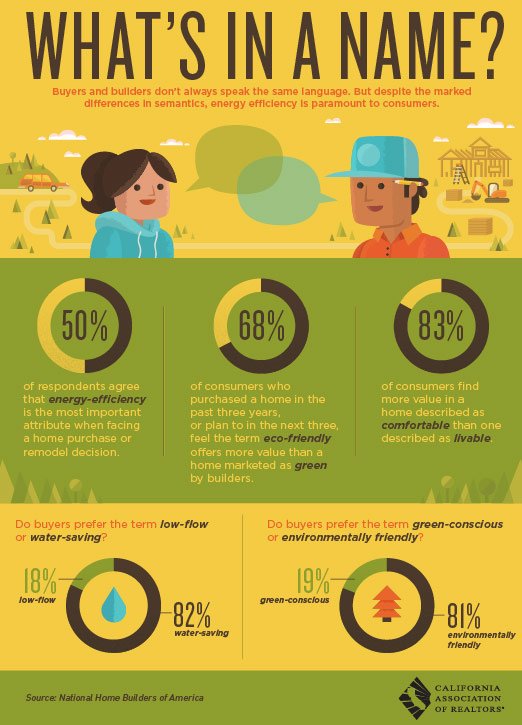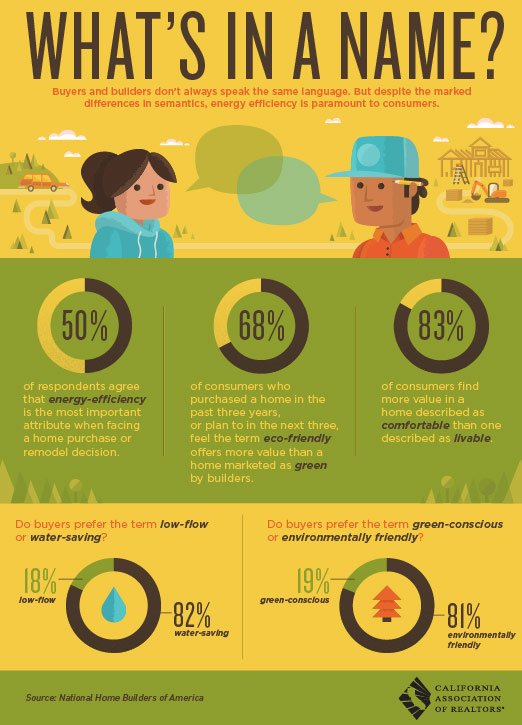 50% of respondents agree that energy-efficiency is the most important attribute when facing a home purchase or remodel decision.
68% of consumers who purchased a home in the past three years, or plan to in the next three, feel the term eco-friendly offers more value than a home marketed as green by builders.
83% of consumers find more value in a home described as comfortable than one described as livable.
Here are a few more statistics on the preferred vernacular of would-be home buyers:
82% of buyers prefer the term water-saving rather than low-flow.
Environmentally-friendly at 81% won out over green-conscious which was preferred by a mere 19% of those responding.
While this all may seem superfluous, we'd love to know what you think about these environmentally-friendly terms when it comes to buying or owning a home in the Contra Costa Valley. Please leave your comments below!