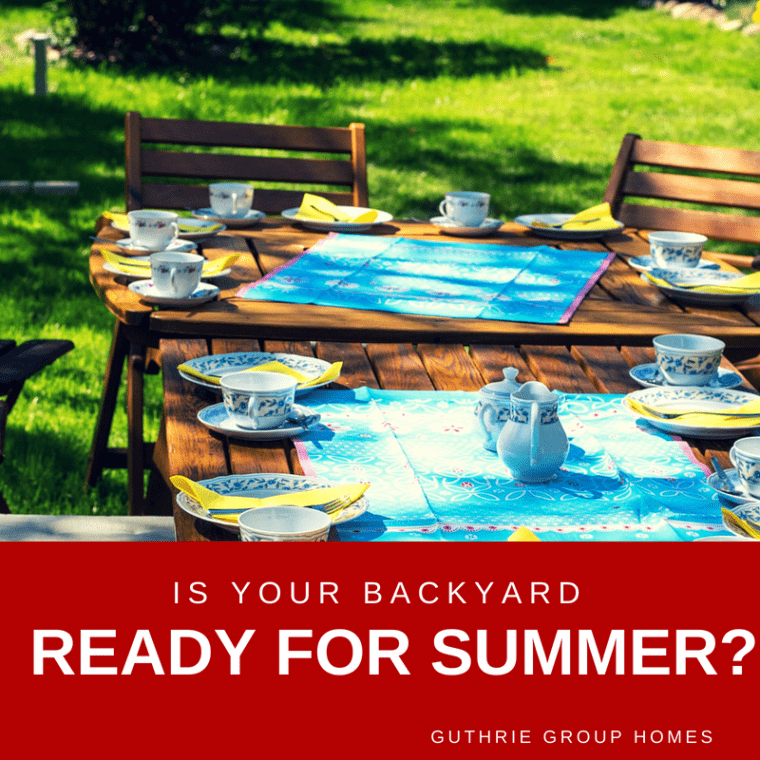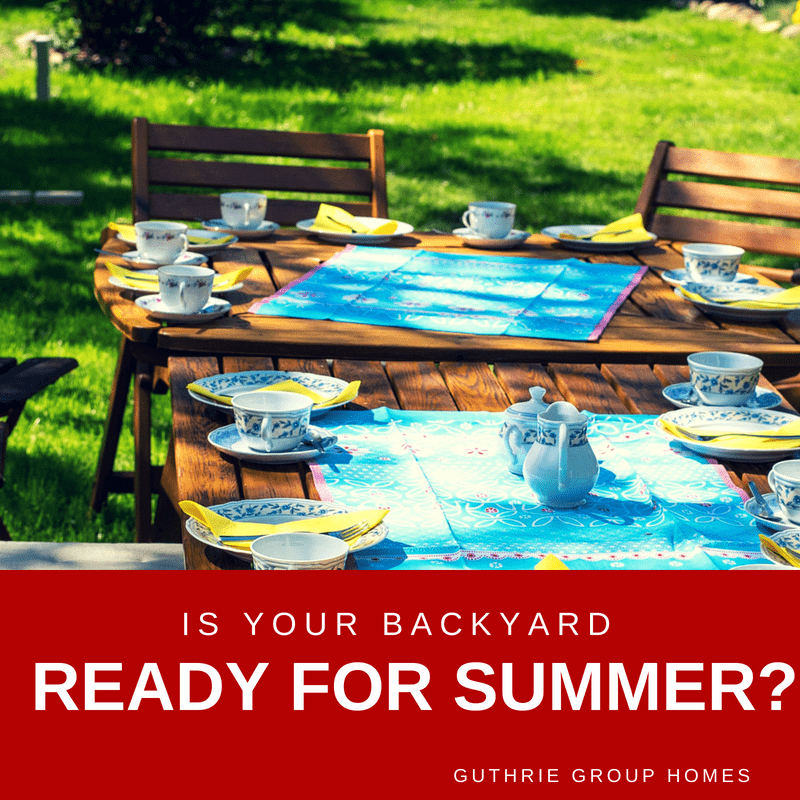 With Memorial Day next week and the Summer Solstice on June 21, summer is just around the corner! We have compiled some great tips and ideas to help you get your backyard ready for summer!
Declutter and Clean
This is a simple but very important step for getting your backyard ready to entertain. Decluttering old furniture and items from seasons past helps to maximize the space you have.
Survey your yard with a critical eye and be ruthless when it comes to getting rid of broken and old items. Well loved but still usable items like old yard toys that your kids may have outgrown might be offered to neighbors via local Facebook groups or NextDoor. Some things may just need to find their new home in the trash.
Once you have decluttered, it is time to deep clean! If you have patio furniture, this is a great time to inspect your furniture for wear and tear. If your furniture has cushions, inspect them to make sure that they are still serviceable. If so, clean them according to the manufacturer's instructions to ensure a clean welcoming place to relax for your guests.
Sweep off any dirt, rocks, or leaves that may have accumulated on your walkways. If possible hit the surfaces with a pressure washer to make sure everything looks as fresh as possible.
Plan Your Summer Activities
Now that you have decluttered and cleaned your backyard, you can get to planning! By planning out your summer activities, you can make the best use of your space. To get the most use out of your backyard this summer, think about your favorite way to spend summers in your backyard. If you have just bought a new home, what do you envision using your backyard for?
Not sure? Here are two fun ideas to try out:
Outdoor Theater
Love to watch movies? Or better yet, do you love watching movies outdoors but can't wait for the next Movies in the Plaza in Oakley? Gather your family and friends, blankets, and chairs to enjoy an evening outdoor picnic while watching summer blockbusters outside on a DIY Backyard Movie Screen.
Lawn Games
Lawn games are a classic backyard past time and a perfect way to keep family and friends outside and chatting while others are outside grilling. This Outdoor Tic Tac Toe set and DIY Yard Dice are made for fun outdoor adaptations of these classic games.
More Things to Think About
Cooling
Brentwood can get super hot in the summertime so it is important to make sure that your guests are comfortable. If you do not have a patio or freestanding pergola, market umbrellas and shade sails are easy and affordable ways to add shade to your backyard. They come in a variety of styles and you can easily change them to coordinate with your patio furniture.
If you already have a patio but want even more shade, exterior shades can add an extra touch of cooling shade when you need it most.
Lighting and More
With Brentwood's mild summertime evening temperatures, there's no reason that your summertime backyard fun has to stop when the sun goes down. Investing in good lighting for your patio helps keep the party going with accent lights to help set the mood. String lights are especially good, come in a variety of different designs, and are easy to change out for various party themes.
Unfortunately, summer bugs also love to come out at night. To deter these uninvited guests, citronella candles and torches are classic choices to repel bugs. Looking for more ways to keep bugs away from the party? Try planting natural bug repellents like rosemary and lemon balm.