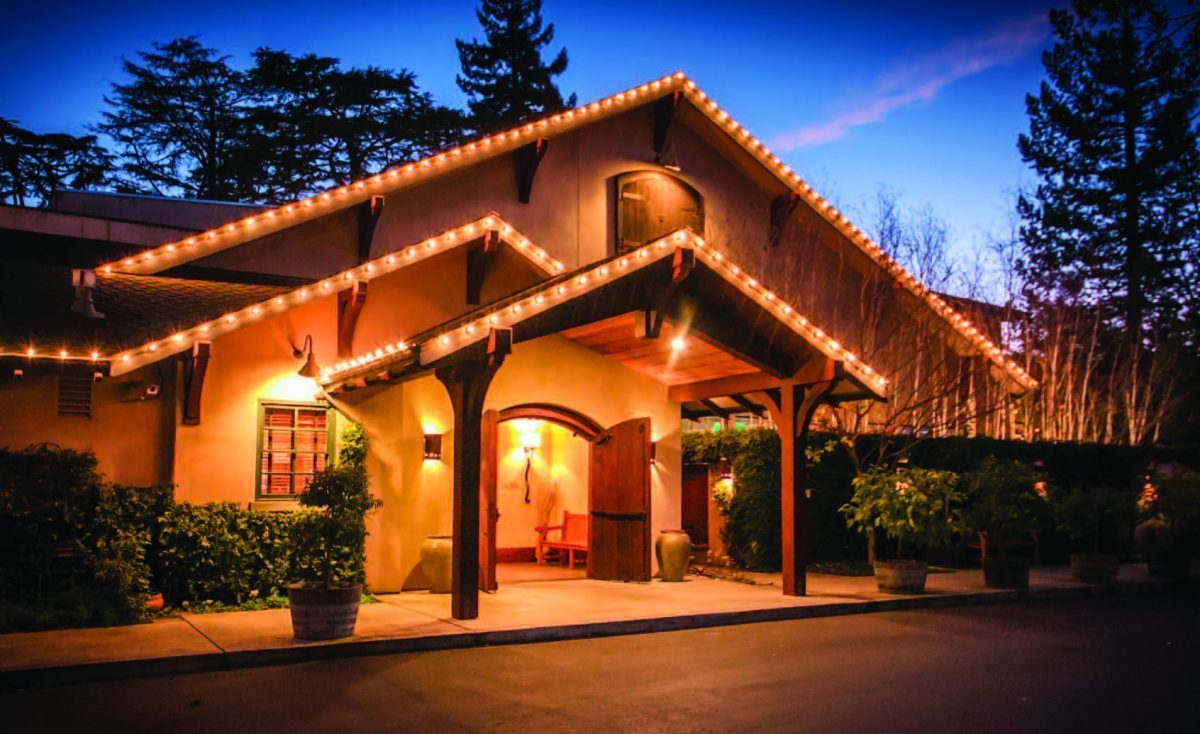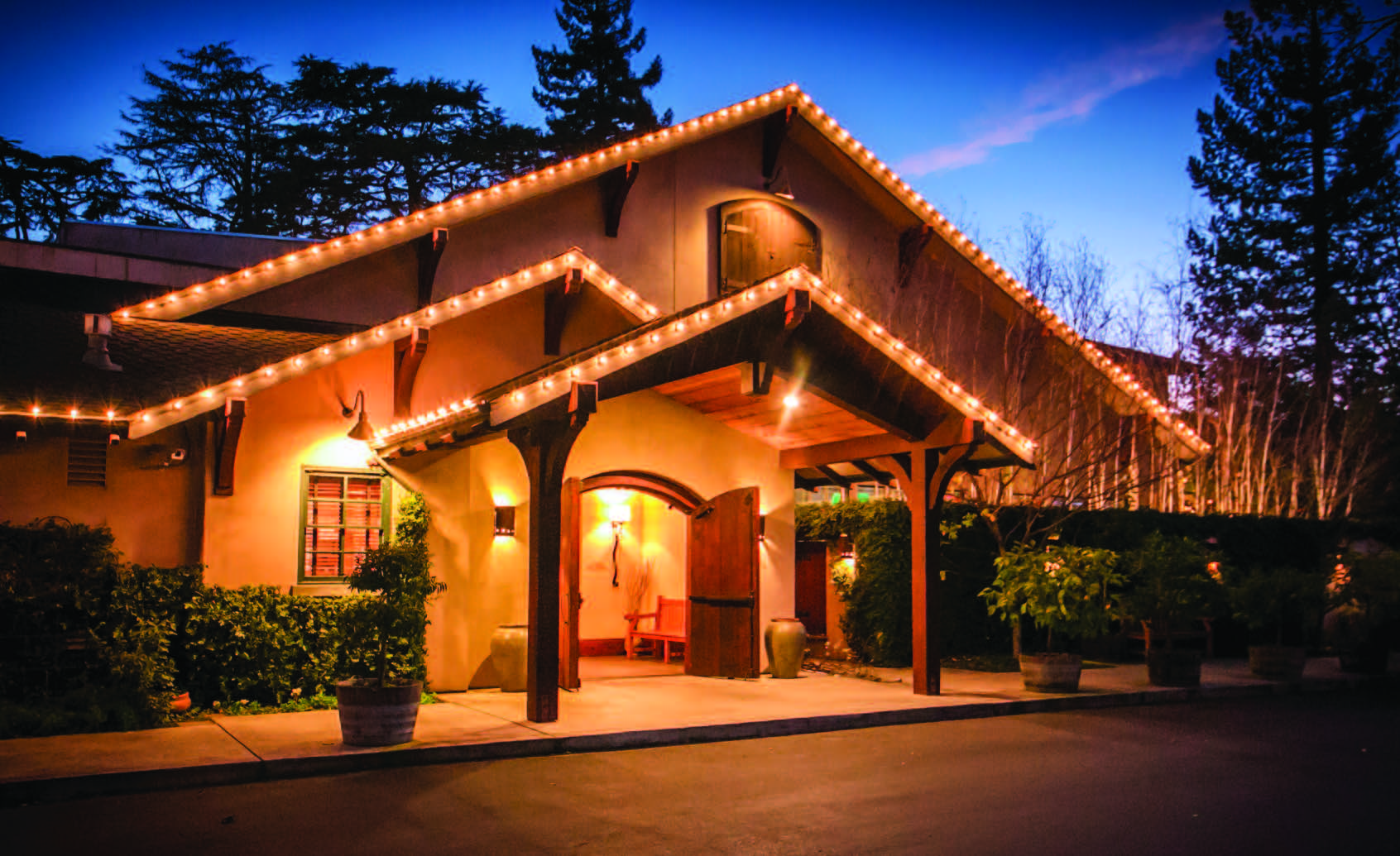 Fall is just around the corner and Libby and I have been thinking about Lodi.  There are a lot of vineyards and wineries around Lodi and they're beginning to get busy with the harvest and making of wine.  Actually, Lodi has become one of our new favorite places to go for wine tasting.  Not as snooty or as pricey as Napa Valley or other areas near there.  More laid back and friendly.  The fact that it is so close makes it even better!
There are a number of things that are in our thoughts about Lodi.  At the top of the list is one special place there that we particularly like to visit.  We will be doing that pretty soon.  We like it so much we thought we would tell you about it.  It's called "Wine & Roses."
Wine & Roses is not in downtown Lodi, as you might expect.  It's away from there in an area of more industrial type buildings and businesses.  It doesn't look like much from the busy street.
If you don't know about Wine & Roses, it's really easy to not even notice and just drive by.  We did that for years until we attended a Realtor conference there and thought "oh my God!  What a truly beautiful place!"  We've been back many times since.
[Tweet "Wine & Roses Hotel and #Spa in Lodi is easy to miss if you don't know to look. #getaway @GuthrieGroupHMS"]
Wine & Roses is a hotel, spa, and restaurant on some extraordinarily beautiful grounds.  You can't see these grounds from the road.  You need to go on to the property.  The grounds are about 7 acres containing beautiful mature botanical gardens with towering gorgeous shade trees, colorful flowers, and shrubs of all kinds.
Let's assume you heard Ken and Libby tell you about this place and you have come and are checking into the hotel.  You are greeted by the always friendly staff.  As you're completing the check-in, you look around the lobby which is, of course very warm and welcoming.  To the left, you see through the door another room with what appears to be a bar.  There are a few people in there talking and holding wine glasses.  You decide to come back later and check it out.
You find you're in an upstairs room.  As you enter the room you are pleasantly surprised by how roomy and comfortable it looks.  At the far end of the room are shuttered French Doors leading onto a balcony overlooking the grounds.  It is a truly wonderful, relaxing view!  You know you will be spending some time on the balcony just soaking it all up!
The bathroom is bright and spacious.  Libby particularly likes the bathrooms.  She also really likes the comfortable beds.  So does Ken!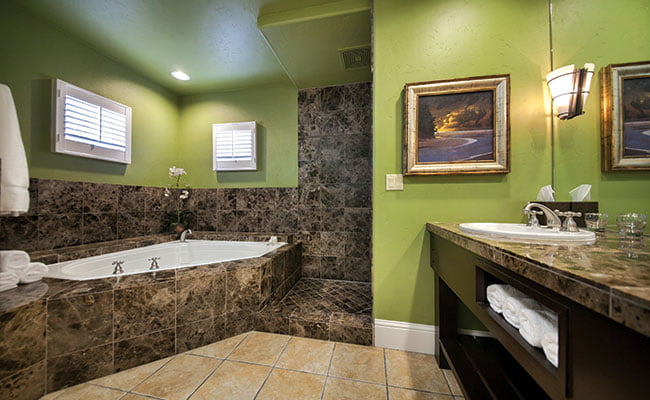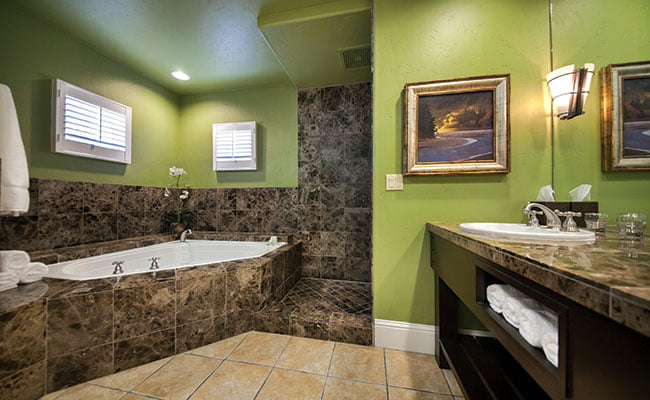 After settling in, you decide to visit the spa and see about getting treatments.  Libby and Ken told you all about that. Before setting up an appointment, you ask to see the facilities.  So they take you on a little tour.  You realize as you take your tour that this is a truly first class facility!  First of all, there are the spotless men's and women's locker rooms with full locker, shower and steam room facilities.  You remember Ken and Libby are not into the steam rooms but they both really like having shower facilities to wash off the oils and lotions from treatments.  Some spas don't have showers at all!
You continue outside through what Ken calls the "Spa Grotto."  The spa facilities are in their own enclosure with more beautiful landscaping and two little streams ending in waterfalls dropping into two hot tubs.  Nice!  You note that for future reference!
You pass a number of doors leading to treatment rooms and then go into the waiting area where you would wait after getting into your robe to meet your treatment provider and go to your treatment room.  The waiting facility is extremely comfortable and relaxing.  You know you will be part of the way to relaxed before your treatment even starts!
Really liking the set-up, you go ahead and make an appointment for your own treatment.  Ken and Libby told you they really like massages.  They've been getting them for decades and have had them in quite a large variety of places.  Ken likes to share that he had the best massage he has ever had at this facility.  Libby really likes the facials here too.  Ken is not into facials.  He had one once and that was it.
After making your appointment, you decide to stroll around the grounds.  As you continue on your stroll, you notice that quite a lot of the vegetation is labeled.  You find you enjoy walking around and learning what the different plants are.  "Well now," you think, "I can get some good ideas for my own landscaping!  This is cool!"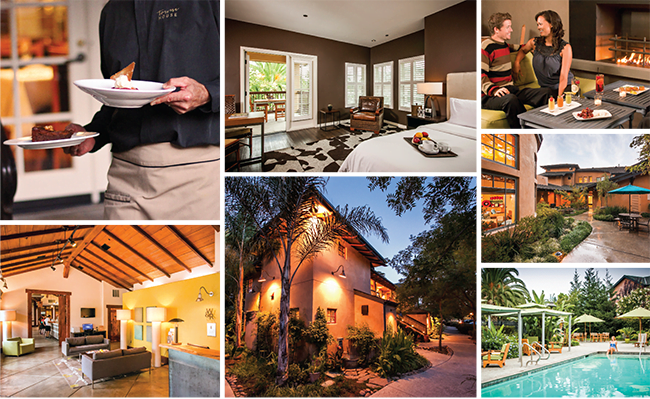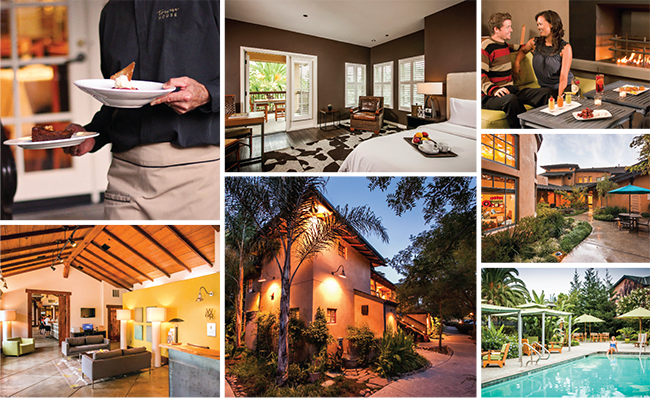 You are startled when you hear a loud "wolf whistle."  You look around.  "Who did that?  Where did it come from?"  You don't see anybody.  Then you hear a strange sounding "hello, how are you?"  Again, you don't see anyone.  You walk in the direction you though it came from and then you laugh!  The whistles and talking are coming from the resident parrots and myna birds.  They're in big enclosures in a corner of the grounds.
Continuing your stroll, you come to a beautiful grassy area with a flowery archway at one end.  This, of course, is the location for the outdoor weddings they have here.  It is a very popular place for weddings!
Past the wedding area, you see the restaurant which is in an old restored ranch house.  The restaurant also has beautiful outside seating as well.  You go inside and check out the lounge.  Not much happening.  It's still pretty early in the day.  As you leave you're thinking about which night to go there for dinner.  You will call and make a reservation once you have figured that out.  You'll definitely go there for breakfast in the morning!  The outside seating will be perfect for that!
Your stroll comes to an end where you can see the lobby where you checked in.  How convenient!  Here's the chance to check out that room off to the side you noticed when you checked in.
So you go back through the lobby and into that room.  Aha!  They're tasting wine in there!  You find out that this room is the "Lodi Wine & Visitor Center."  You can actually taste wines from many local wineries right here!  Even more convenient!
You realize you're in the mood, though a little nervous, so you step up and review the tasting list for the day and begin tasting.  As you do and as you talk to the proprietor pouring the wine, you realize that they are not snobs at all here and they talk about wine like "normal" people.  You're not intimidated like you are in those tasting rooms in Napa Valley.  You find yourself relaxing and really enjoying the experience.  Plus you're  finding out a lot of great stuff about the local wineries and the local winemakers.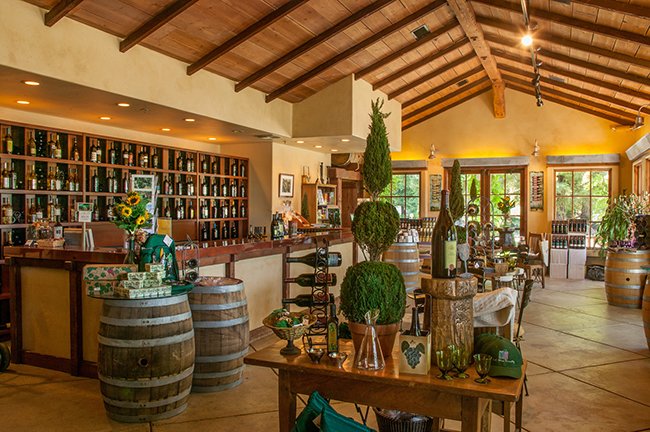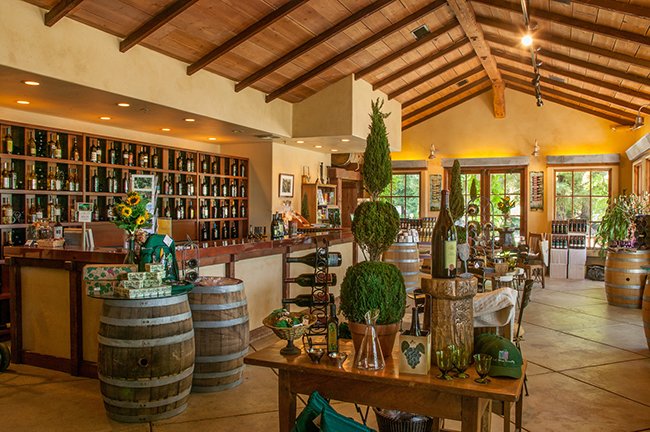 All around the tasting room are shelves and shelves of bottles of wine.  Soon you're wandering among the bottles checking out the labels.  "Well, this one looks interesting."  That one does too."  I think I'll try them both."  When you do you find you really like both of them.
Pretty soon, you're walking back to your room with some wines you really like and you didn't have to pay big fat Napa Valley prices for them. Tomorrow, you're going to go out to some of the wineries and check them out!
You decide "you know what?  I really, really, like this place!  I'm glad Libby and Ken told me about it! I think I'll ask them if they have any more recommendations!"
Ah, we do!  If you like, we'll share some more in future newsletters!