Yes, I know it's the middle of winter, but if you start thinking about your spring garden now, not only will you be ahead of the game, you'll have the nicest looking yard on the block.
Just for some perspective, the first day of spring is Monday, March 20, 2017, which is really not too far away. And you need to know that the last frost for our area is typically around mid-February but can last up to early March. According to Weather.com, lows will be in the 40's at the beginning of February, so you should be pretty safe setting out new plants around mid-February.
Also, for you avid gardeners, we are in the USDA Hardiness Gardening Zone 9. Only southern Florida has a warmer winter climate than us.
And before we get into the tips, we have to consider the California drought situation and the crazy weather we've been having. With the "storm door" apparently open, you should stay off wet turf and soaked garden beds until they dry out some between rains. You'll just have to play it by ear before getting out and working in the yard, and check out what the potential situation for your city is in terms of water restrictions and drought awareness.
I've broken down our winter gardening tips into three sections below. Ready? OK, let's get going.
Clean up
Before anything else, you'll want to do some maintenance. Chances are you haven't spent a lot of time outdoors in the past couple of months, so it's time to get your yard in order before you think about preparing to plant new flowers and shrubs.
If you haven't pruned deciduous trees yet, check with your local nursery to see if it's too late in the season for your specific trees. You'll also want to prune deciduous shrubs and any evergreen shrubs that don't show any new leaf buds yet. Remove old annuals and any perennials that were killed by freezing.
Rake the lawn and remove any leaves that you missed before.
Set up
You may need to do some additional maintenance in the yard by checking your sprinkler system, and repairing broken sprinkler heads, replacing or cleaning clogged nozzles, and checking irrigation valves for leaks or damage from winter freezing.
If need be, apply a pre-emergent herbicide to your turf, and fertilize with a winter fertilizer or balanced fertilizer depending on your need. If you're not sure, check with your local nursery professional what is right for your type of grass and soil.
When the ground is dry enough, prepare your planting beds by digging in 3 inches or so of compost, peat moss, or other soil amendments to a depth of 12 inches if possible.
Dig in a fertilizer high in Phosphorus (which stimulates root growth and flowers), and Potassium (for overall vigor) since these nutrients move very slowly through the soil. A balanced fertilizer is also fine as long as you don't plant too soon.
Buy up
Look for bargains at your local garden center, Lowe's, Home Depot, and even at Costco. Buy plants that don't have blooming flowers on them for a much better show after they are planted. Look for spring bulbs like Gladiolas or Dahlias, and you may even find some Daffodils that haven't started to leaf out or bloom. And while you're at it, pick up some Tulips and Narcissus for an indoor winter flower show.
Start seedlings either indoors or in a greenhouse. If you don't have a lot of room in your yard, check out this 4-Tier Mini Greenhouse from Amazon.com which measures just 27″ Long x 18″ Wide x 63″ High and runs under $40.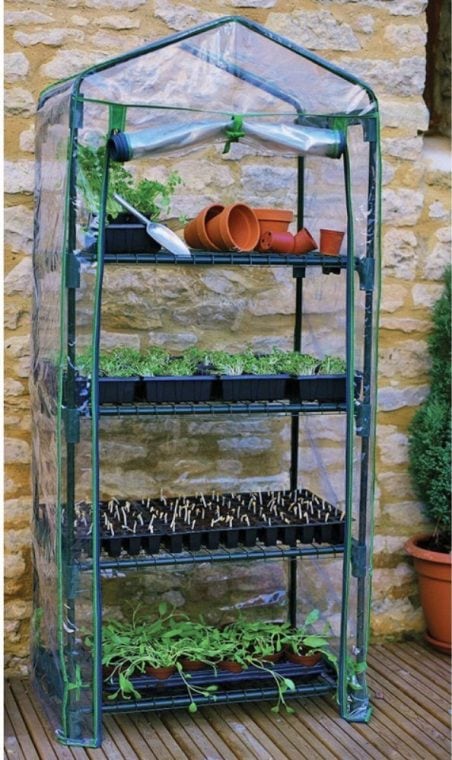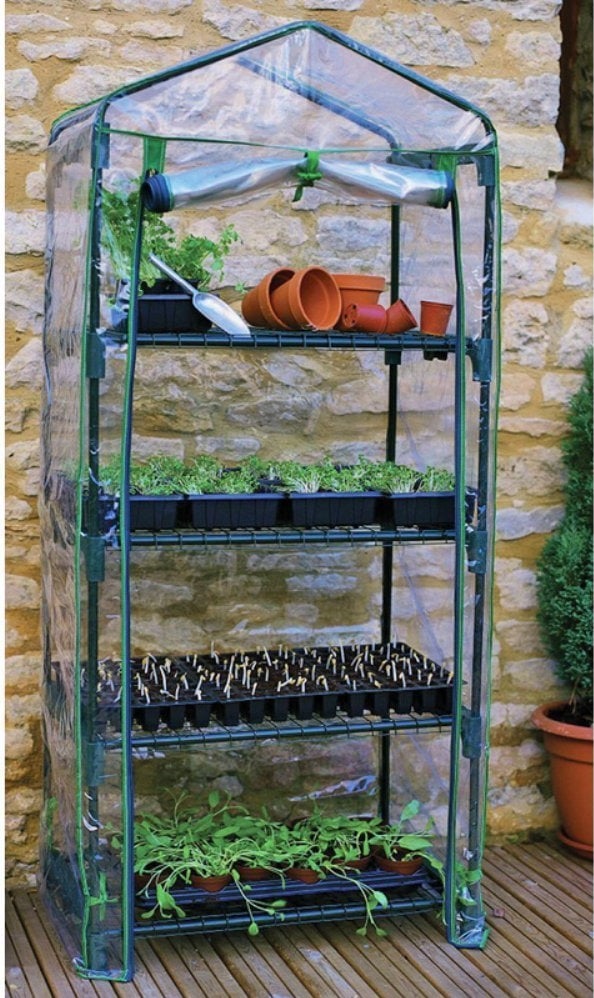 Grab a copy of your favorite garden magazine and imagine the possibilities for your spring yard.
When the weather warms, you'll be ready to plant your bargains and seedlings and enjoy your beautiful spring garden.