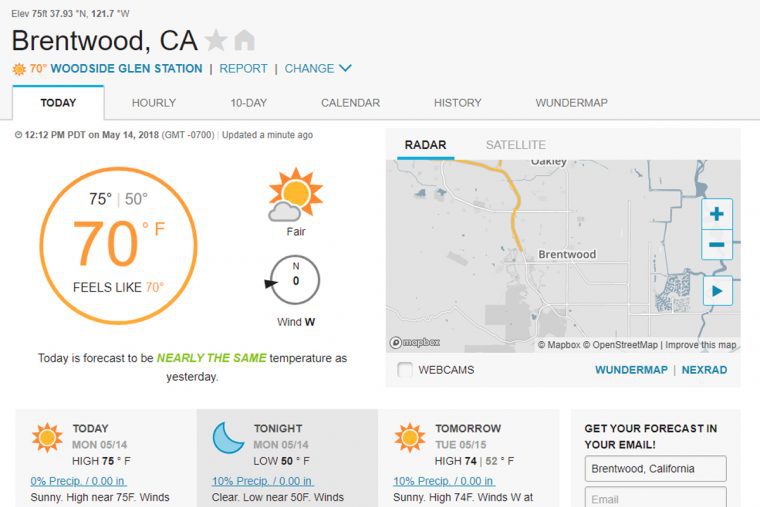 Weather Brentwood CA
Weather. Everyone wants to know what it's going to be like. Will it rain? Is it going to be hot or windy? What's the weather like in general in Brentwood?
We all talk about the weather. We like to watch The Weather Channel. We like to complain about the weather. It's a hot topic… 🔥 😉
Brentwood CA Weather Forecast
Even though in this article we're going to talk about the weather in general in Brentwood and surrounding areas, most of you will want to know what the weather is going to be like today, or maybe this week. Or right now! We got you covered there, just take a look in the sidebar and you'll find a 7-day forecast courtesy of Weather Underground (wunderground.com).
You'll find the forecast on the right if you're on a desktop or laptop. Scroll down the page near the bottom if you're on a smartphone. That forecast is there 24/7 so bookmark this page for convenience' sake.
Moving to Brentwood?
For some of us, the weather is an important part of deciding where to live. That's one reason so many people move to California. We don't have hurricanes or tornados. It's rarely humid. The winters are relatively mild (with the exception of the mountainous areas). And you can pick just about any type of climate you like in the state.
Brentwood is no exception. Located along the Sacramento-San Joaquin Delta, and close to the central valley, we experience temperatures that are hotter in the summer than cities along the San Francisco Bay. We have a similar climate as along the Mediterranean sea, but with an arider desert-like summer, without the sand and cacti of course. 🌵
Winter's tend to be mild with temperatures rarely dipping into the freezing mark, or staying there for more than a few hours. Snow is unheard of, and it rains an average of just 34 days per year. There is occasional tule fog, though, during the rainy season (late fall through early spring).
You'll want to stay off the roads when there's tule fog!
Spring and autumn weather is fabulous in Brentwood! In our opinion, it's the best time for golf, hiking, and other active sports. While summertime on the delta, boating, waterskiing or just relaxing in the sun is the preferred outdoor pastime.
For Weather Geeks
For some, the weather is only important for knowing if you should bring sunscreen or an umbrella. For others, it's a hobby. Or an obsession! 🙂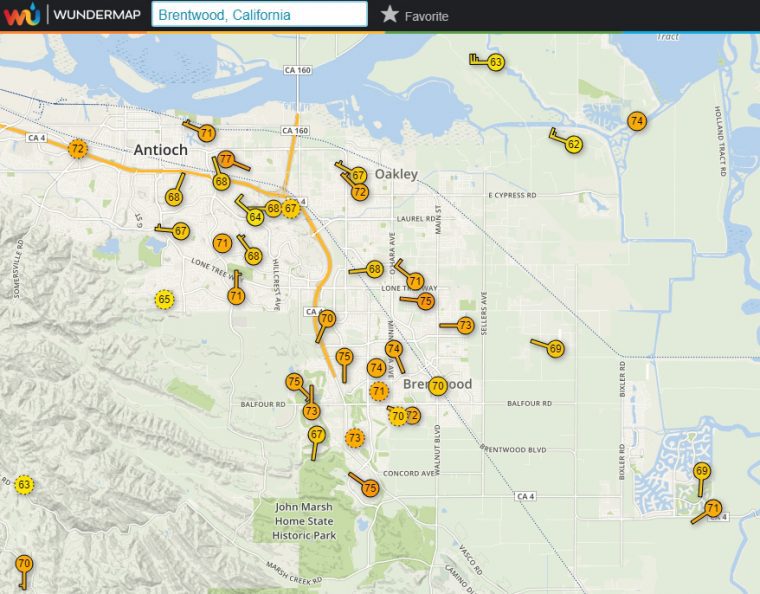 You see in the map above, each icon represents the temperature and the wind direction. But many of those icons report the weather from personal weather stations. That's right, there are over 30 weather stations reporting in the area. Most of them are owned by weather enthusiasts, not the National Weather Service.
And you'll also notice, there can be quite a difference in the temp from one location to another. You might experience 71 degrees on the links on Balfour, 75 downtown, and 67 at the park, all at the same time. We've seen differences of 10 to 15 degrees or more from one neighborhood to another during the summer heat. Who knew?
Weather is so nerdy, it's even mentioned in the film Men in Black II…

Contra Costa County
The East Bay Area & Far East County

Just for your reference, Brentwood is located in Contra Costa County, which extends from Richmond (part of the East Bay just north of Berkeley and the Bay Bridge) along the San Pablo Bay, the Suisun Bay across to the Delta. Down past Byron, over to San Ramon, through Moraga and Orinda, back up to Richmond. As you can see, Mt. Diablo is smack dab in the middle of the county.
Far East Contra Costa County, AKA, Far East County includes pretty much the cities east of Antioch and typically see the hottest temps of the county. For comparison, the weather there is similar to what you would find in South San Jose. Generally speaking, it's mostly mild near the coast and the S.F. Bay, while inland sees more weather extremes. But nothing like the MidWest or South do.
Of course, with climate change, all bets are off. We may someday have tornadoes in Brentwood, but I doubt it. We suggest you schedule a visit to Brentwood and find out for yourself.
Give us a call at 925-628-2436 and we'll be happy to help you out with a tour.