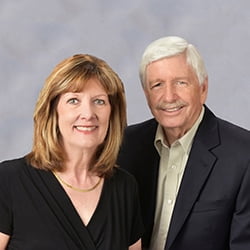 First, thank you for taking the time to leave us your review on our recent real estate transaction. Testimonials and referrals are the lifeblood of our business, so your 5 Star review really means a lot to us here at Guthrie Group Homes!
If you're familiar with leaving reviews on our site, you can just click on the link below and it will take you to our website review submission page, where you can leave us your review.
http://guthriegrouphomes.com/write-review
If this is your first time doing one, there are some instructions below to help you leave your review.
If you need any help, just let us know!
Not sure what to write?
You can visit our testimonials page on our website at http://guthriegrouphomes.com/guthrie-group-homes-reviews-testimonials/ and see what other clients have written.
You may also want to look at our reviews on Zillow (http://www.zillow.com/profile/Guthrie-Group-Homes/ scroll down the page to see our reviews) or Trulia (https://www.trulia.com/profile/libby-guthrie-agent-brentwood-ca-zg6x46nd/reviews) to see what others have said and get ideas for your review.
Click this link to get started with your review – http://guthriegrouphomes.com/write-review
Instructions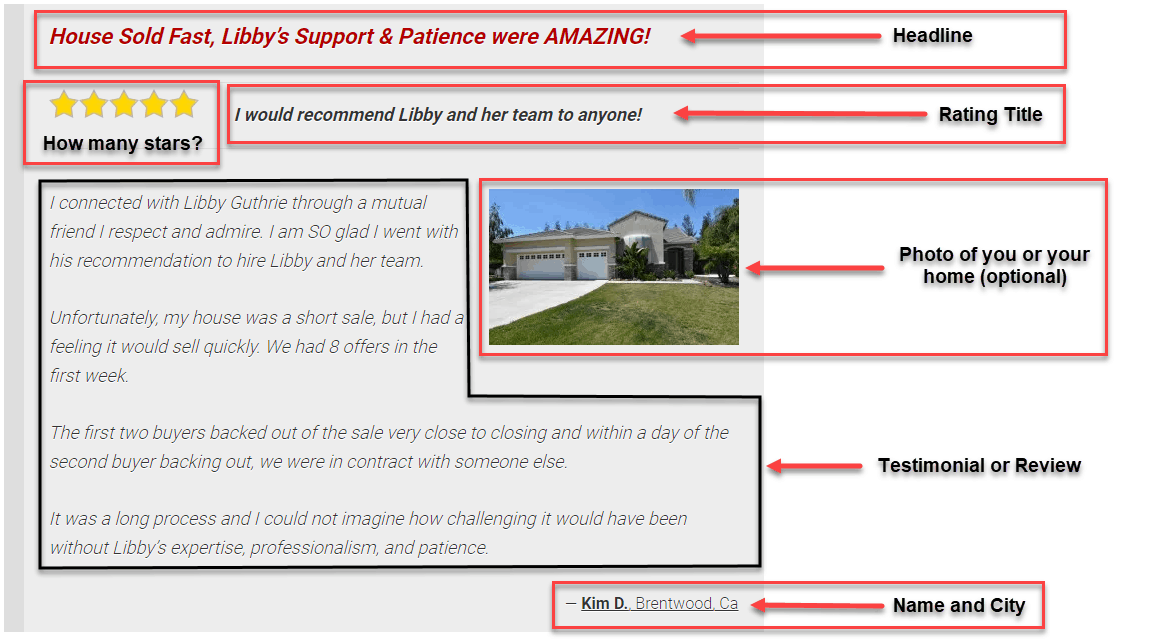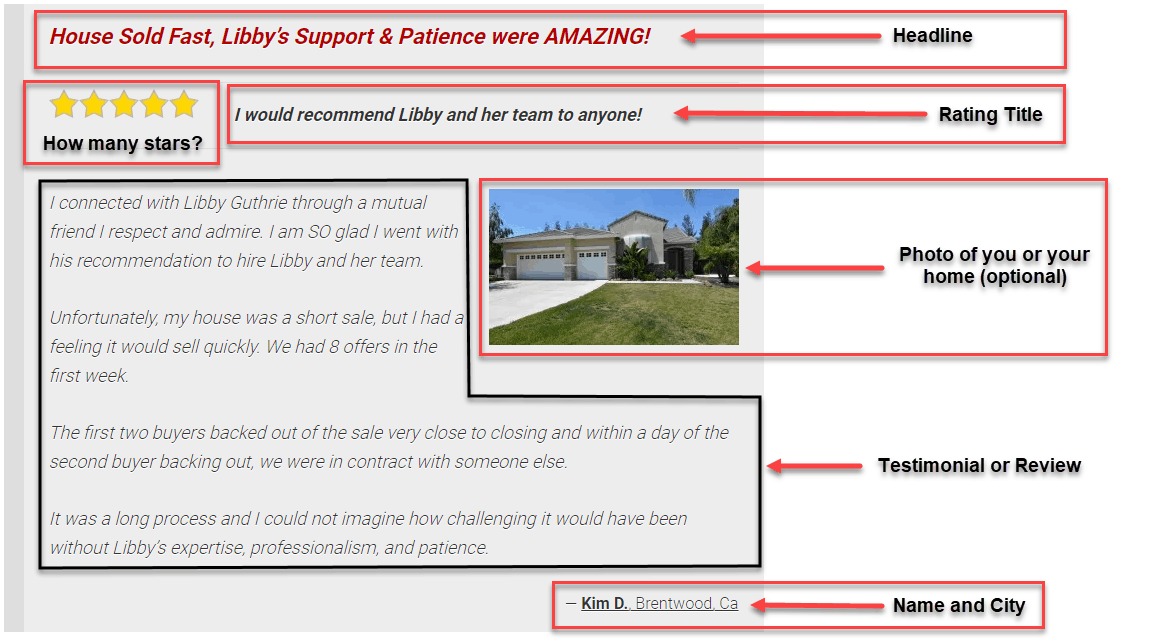 To leave your Review – go to the link listed above.
Click on the number of Stars you'd like to give us.
Enter your Rating Title – Example: I would recommend Libby and her team to anyone!
Enter your first Name (or names) – Example: Roger or Roger & Betty
Enter your last Name or Initial – Example: Dougherty or D.
If you and your spouse or partner have different last names, you can enter…
Example: Roger F. & Betty D. or Roger Faraday & Betty Dougherty
Enter your email address if you would like to receive a copy of your review and be notified when your testimonial has been published.
Your email will NOT be published along with your review. We value your privacy!
Enter the city where you bought or sold your home.
Enter your review Headline (optional). See the examples below –
"Libby Sold My House FAST"
"Best Realtors I've Ever Worked With"
"Meh, they were OK :/"
Then Enter the text for your testimonial or review in the space provided.
If you would like, upload a photo of yourself, you and your partner or your family and/or upload a photo of your home. These are both optional, but they make your testimonial look really nice. 🙂
Accept our Terms and Conditions – that is, you are giving us permission to post your review along with anything you submit with the form on our website. (We want to make sure we have your permission before we publish your review!)
Click the "I'm not a robot' box so we know you're human. (We like robot's too, but they usually don't give us reviews.)
Then click the 'Submit Your Testimonial' box at the bottom of the page.
That's it! And if you entered your email address, you'll get an email with a copy of all the information you submitted, for your records.
Thank you again for taking the time to leave a review for Libby and Guthrie Group Homes!