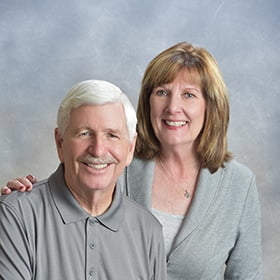 First, thank you for taking the time to leave your review on our recent real estate transaction. Testimonials and referrals are the lifeblood of our business, so your review really means a lot to us here at Guthrie Group Homes!
If you're familiar with leaving reviews on Yelp, you can just skip to the bottom of this page.
If this is your first time leaving a review, we suggest you go through the brief tutorial below first.
Either way, if you need any help, just let us know!
Instructions
1. If you're not logged in to your personal Yelp account, you'll need to log in to leave your review.
2. Scroll down the page until you see something like the image below:


3. Click on the number of stars you want to give us.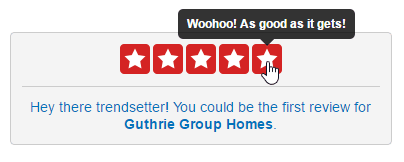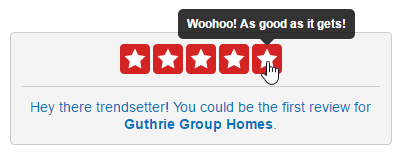 4. You'll be taken to a page that looks like this: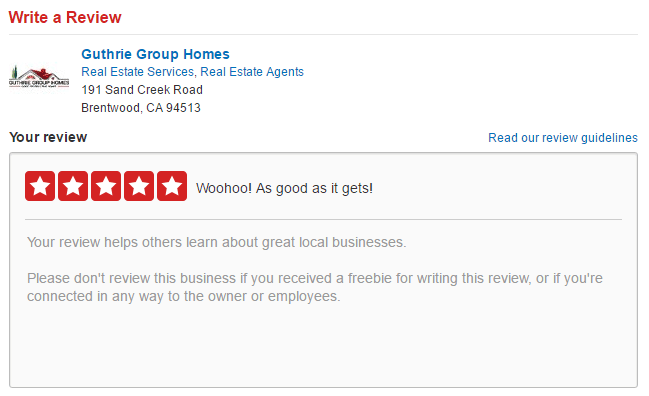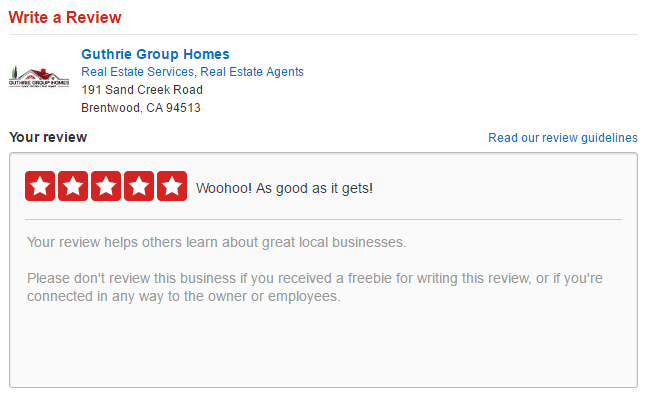 5. Type in your honest review. You can read the review guidelines here.
6. If you like, go ahead and click the "Share your review on Facebook" and/or "Share your review on Twitter" if those options are available.
7. Scroll down to the bottom of the page and click the Post Review button.


That's it!
Ready to get started? Click here to leave your review on Yelp.
Not sure what to write?
You can visit our testimonials page here on our website and see what other clients have written.
You may also want to look at our reviews on Zillow, scroll down the page to see our reviews, or Trulia to see what others have said and to get ideas for your review.
Again, if we can help you in any way, just let us know.
Thank you again for taking the time to leave a review for Libby and Guthrie Group Homes!