Sometimes you may want to do some upgrades to your house before you put it on the market. But it can be a mystery what projects you should really do.
There are two things to consider before you begin, recouping your costs when you sell, and improving the appearance of your home for better appeal and to sell faster.
Below you will find an infographic showing the top 10 home projects and their return on investment according to Remodeling Magazine and the National Association of Realtors Cost vs. Value Report.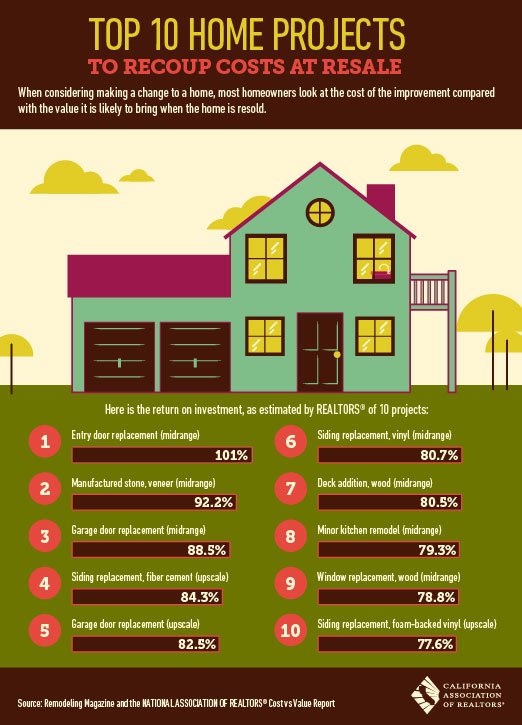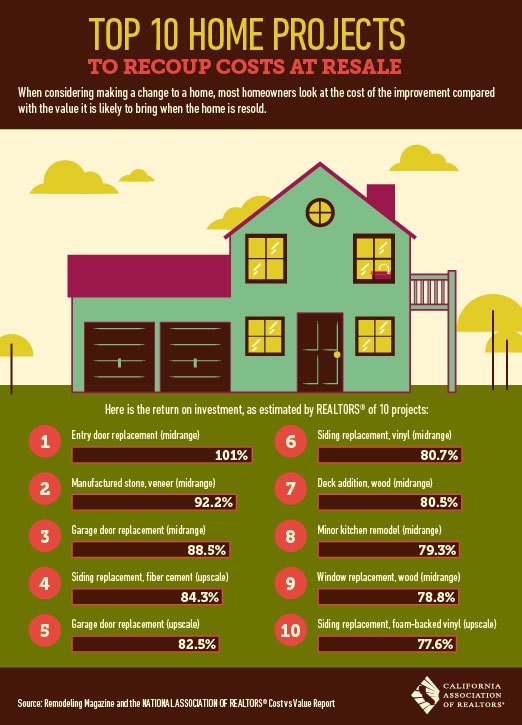 Not surprisingly, replacing your front door pays for itself. Since your main entry door is the introduction to the inside of your house, that sets the tone for the prospective buyer's expectations.
Some of the other improvements are pretty major, such as changing the siding or adding a deck. While you may not recoup your costs directly from these projects, the difference in the way your house looks and feels can bring more potential buyers and make your house sell faster.
What is surprising is that bathroom and kitchen remodels don't rank highly in the top 10. Once upon a time, these were some of the most desired home improvements a homeowner could do before selling their home. Times certainly do change! If you'd like to read the entire Realtor.com article on remodeling cost vs. value, click here.
For those of you who are thinking about putting your house on the market, but are on a budget, consider home staging instead of expensive repairs. You can get a lot of bang for your buck without spending all your dough.
There are a few things to keep in mind while you are considering all the facts, and deciding on the improvements you want to make. The age and condition of your home factor considerably in what really should be done to improve the saleability of your house, as well as the area, city, and neighborhood your house is located in. Before you make any decisions, give The Guthrie Group a call at 925-628-2436 and we'll gladly give our expert opinion on where your money will best be spent.
A final thought for you. If you're not planning on selling for a few years or more, it might be a good idea to do your upgrades and remodeling now so you and your family can enjoy the new features until it's time to move to your next home.