In this article, we're going to review what happened in our real estate market in 2016 for East Contra Costa County California, including Antioch, Brentwood, Oakley, Discovery Bay, Pittsburg, and Bay Point. This will include sharing some statistics but more importantly sharing our take on things as people very close to events on a daily basis.
Everybody wants to know what the story is and was regarding home sale prices. Were they up or down or flat or what? Stats work well for this subject and we have some graphics in the article that show what happened to median home sales prices during the last year.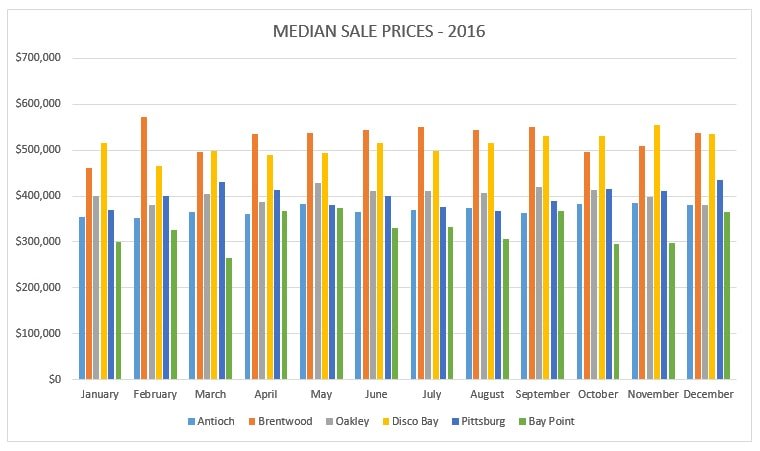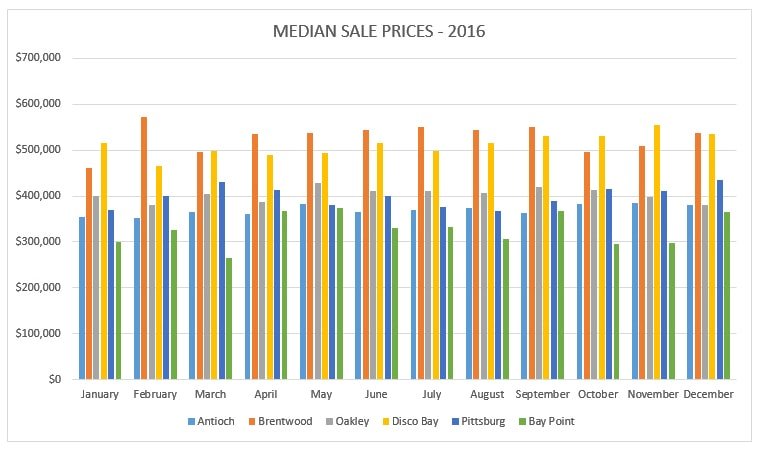 As you can see prices basically went up over the course of the year for all cities in our area. However, the rise was not a straight line over the year. Some months saw prices in some cities go up, then down, then up, etc. The key to consider here is if they were up at the end of the year from the beginning of the year. We can definitely say yes to that except for Oakley. The last two months of the year showed a bit of a decline. I suspect an anomaly here as 2017 sales to date are back up above the beginning of 2016.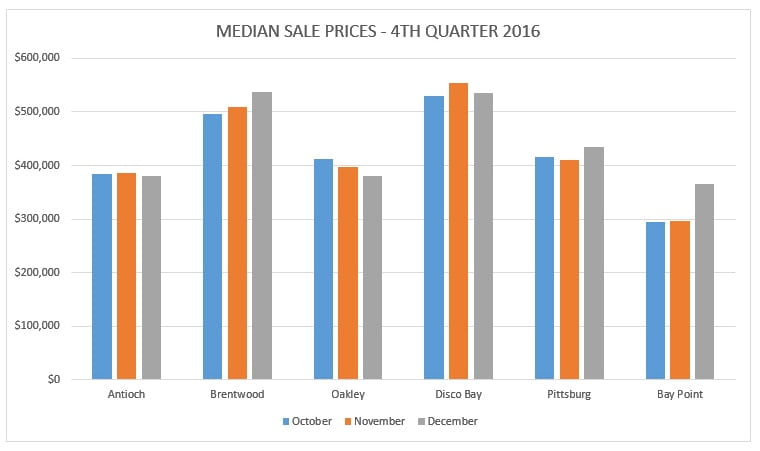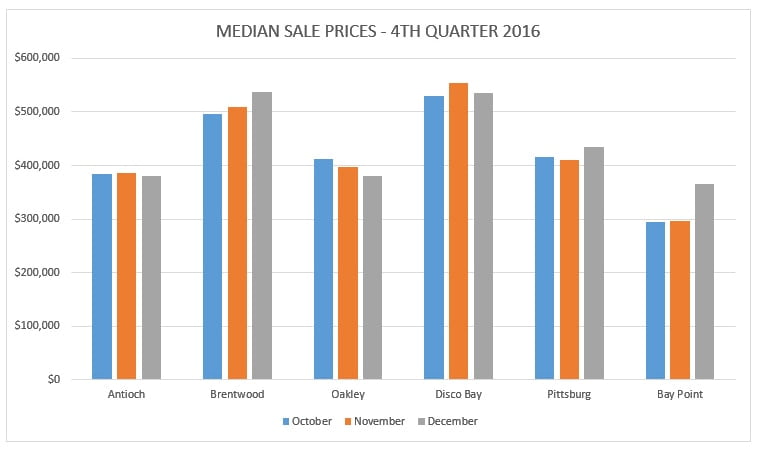 There are a couple other things we can point out on this subject. During the course of the year, we could feel the rate of increase slow. In other words, prices went up more quickly in the first half of the year than the last half, with a few exceptions.
You may have heard that home sale prices have reached or even passed where they were at the very height of the market before they dropped. That is true in many parts of the Bay Area. However, in our area, they still have not returned to those highs except for a few neighborhoods in a few cities. Generally, we still have a way to go to reach those highs here.
Here's a tidbit about prices from late last year up until right now. It is what we have identified as the "Sweet Spot." This is the price range where we are seeing the most activity. That is where most buyers are and where competition to buy is greatest. The Sweet Spot is anything priced below $450,000.
Low Inventory of Homes
One dramatic statistic from last year has been the sudden drop in the inventory of homes for sale in the last quarter of 2016 and into this year. We don't have a graph for this and we don't need to display our eye-numbing spreadsheet. So, I will explain the significance of this. The number of homes actively for sale at a given time in a particular market can give us some clues to what is going on in the market and may be an important predictor in the rise or fall of prices.
Here's one example: When the bubble burst about 2007, in Antioch there were 1,229 homes for sale. Prices were dropping like crazy then. A lot of people wanted to sell but could not. Banks had a lot of foreclosed properties on the market. Few people were buying. It took a number of years for prices to begin rising again. Prices finally started to rise again in early 2009. Inventory then was between 400 and 500 homes on the market.
As prices continued to rise and people decided it was time to buy, the buyers outnumbered the sellers and bought up homes as fast as they hit the market. This drove inventory way down. The historic low inventory for Antioch was January of 2013 with just 57 homes on the market. Remember, Antioch is a city with nearly 30,000 single family homes!
Low Inventory of Homes may be Driving Prices Higher in 2017 #realestate
Click To Tweet
By the end of 2014, inventory was back up to over 200 homes on the market. It fluctuated around there until late in 2015 when it started dropping. It did not drop dramatically though until the last quarter of 2016 when it went from 137 in August to 67 as of Mid-February 2017. So now Antioch is close to its historic low.
That is what happened to inventory in 2016. Why is that important? If we look at what was happening to prices at a particular inventory number, we see that lower inventory generally corresponded to greater increases in prices. More buyers competing for fewer houses tend to compete with each other in offering price and drive prices up.
This is taking a while I know but stay with me. As I said previously, we noticed price increases slowing in the second half of 2016. But very close to the end of the year we saw inventory suddenly drop dramatically. This could be a precursor to a new spurt in price rises as we continue into the first quarter of 2017. We shall see.
Here's what we're seeing with very low inventory now in February 2017. We are seeing a lot of buyers looking at the homes that are on the market, as well as seeing herds of buyers going to open houses. Especially if they are priced in the Sweet Spot. We are also seeing many buyers coming to East Contra Costa County from other more expensive cities around the San Francisco Bay Area.
So why is inventory so low? There are a few possibilities. One is that homes are going on the market quickly enough but selling so fast the standing inventory does not go up or keeps dropping. However, we are not seeing this in the number of actual sales.
Another reason could be the weather. In other parts of the country where winters can be severe, selling a home in winter can be very hard to do. So many people wait for Spring and nicer weather to put their homes on the market. That is typically not the case where we live in the San Francisco Bay Area as we don't get snow and ice. We get rain.
However, this winter has been a doozy with lots and lots of rain and wind. We have had storm after storm after storm with days and days of continuous rain and flooding. This could be influencing people's decision on putting their home on the market.
The New Normal?
Much has been talked about in our business about changes in the behavior of buyers and sellers and how that affects the market. Studies have shown that people are staying in their homes for much longer than they used to. The question is whether this is the new "normal" or will we eventually go back to the days when "turnover" was quicker and more houses were on the market at any one time. It could also be that all of these possibilities are happening to some extent. There could also be reasons we are unaware of yet. In the meantime, it is a very interesting market.
Conclusion
In closing, there is one other thing we saw happening in 2016 that we would like to share. The number of people getting their real estate licenses increased dramatically. We also saw more agents from out of the area doing business here in East Contra Costa County. That means of course that there is more competition among real estate agents to get seller and buyer business in our area. Put another way, there are more inexperienced agents and agents unfamiliar with the area than there have been in a long time.
Our advice to our readers is to remember there is no substitute for a competent, experienced agent when it's time to buy or sell in a market like this one. And Libby is just the agent to do the job!