Hey! We've moved our Monthly Stats reports to Median Real Estate Prices for East Contra Costa County and changed to quarterly reports, which we think are more relevant. Check it out!
Stats are Where It's At!
Once a quarter we update the inventory statistics of active homes for sale listings in our area as well as the median sold price of homes in East Contra Costa County.
Quick Market Stats Report – October 18th, 2016
This our first report under the new timing and format.
Most indicators are pretty much the same as our last report. Inventory of homes on the market is where it was at the time of our last report in August. They remain very, very low. Brentwood was the exception with a considerable uptick in inventory. Pittsburg and Bay Point were up just a little. Discovery Bay down some. Really there are no trend changes to point out yet.
Median prices are up a little in all areas except Antioch where they have dropped a bit. This is an interesting development! We will keep an eye on it.
You can see the stats bounce up and down each month in the chart above. The fewer the number of closings, like in Bay Point which has very few each month, the higher and lower the bounces appear. As you may know the greater the sampling size the more accurate your stats are. That's why the true trends show over a longer time period.
So, in addition to the quarterly statistics reports, we plan to do a Year End post that will show the ups and downs over the entire year. We think this will help you visualize the market trends more easily.
---
Quick Market Stat Report:
Median prices continue to rise! Please see this article for the whole story.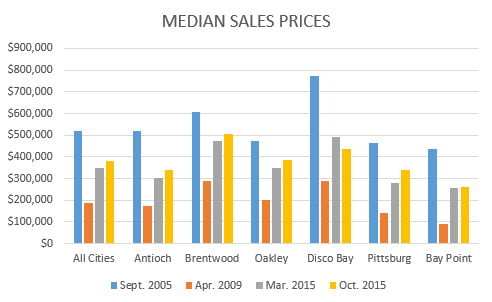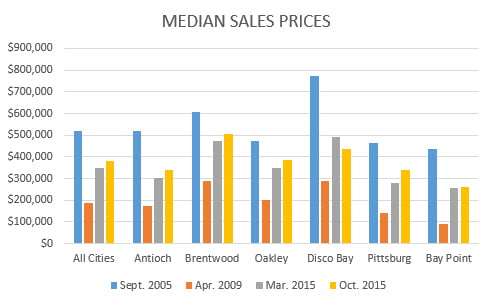 Inventory of homes on the market continues to drop. Oakley is now within 1 unit of matching its lowest number since we began tracking them.
Foreclosures and short sales continue their decline after an uptick a few months ago. In fact, Discovery Bay and Bay Point have no short sales or foreclosures on the market at all!
You can check out the details reported above in our comprehensive Monthly Reports. Just click on our Inventory Report & Median Prices Report links below.
MONTHLY REPORTS
Active Listings, Short Sales & Foreclosures
Inventory Report
Median Listings Sold Prices
Median Prices Report